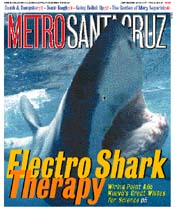 For the Week of
Sept. 10-17,
Cover: Electro Shark Therapy
Wiring Point Año Nuevo's great whites for science.



Notes From the Underground: Going Bellah up.



Dump and Dumpster: Trash stalkin' with David Templeton.
Life in the Past Lane: A stroll through time and the legendary gardens of Mary Segarini.



Night Howl: Queer humor takes a political spin.



Talking Pictures: G.I. Jane challenges the one-sex military while satisfying the urge to see Demi get belted.
La Promesse: A troubled teenager must steer between loyalty and morality.



Accessible Sushi: Benten keeps on doing its comforting sushi thing.