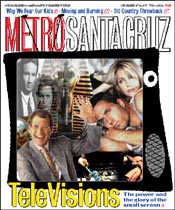 For the Week of
Sept. 18-24
Cover: TeleVisions
The power and the glory of the small screen.
Televangelism: God and Satan vie for prime time.
Slay 'Em, Buffy: A high school heroine wrangles everything from vampires to bitchy cliques.
Tut Tut: Soothing the savage intellect with television documentaries.
Naughtiness and Misery: Living vicariously through sleazy TV wrongdoers.
News: Why We Fear Our Kids
Pundits and politicos are spreading fear by claiming that teenagers today are dangerous, but a careful look at the numbers shows that young people themselves are the ones under attack.



Night Howl: Dance troupes unveil new footsteps this weekend at MAH.



Notes From the Underground: Good Riddance is welcomed home with finesse.



Old Country Throwback: The exuberant tradition of Italian-American dining is alive and kicking at Ristorante Italiano's welcoming hearth.