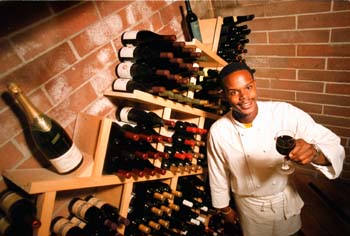 Photograph by George Sakkestand

Here's Looking at You: Executive chef Damani Thomas stands in front of Oswald's extensive wine shelves.

Original Oswald

Continuing its consistent command of bistro consciousness and culinary expertise, Oswald charms us all over again

By Christina Waters

WE ALL FELL IN LOVE with this place the minute it opened five years ago. It had miles of style packed into a single dining room walled by Victorian brick. The kitchen was tiny, the service was personal and the whole place seemed to aim itself squarely at the idea of seasonal innovation. Whatever was fresh was on Oswald's menu, sauced smartly and presented with unbridled confidence.

That impression was upheld in spades last week when I dined with Oswald regulars Jocelyn and David in our favorite corner of the cozy restaurant. It turned out that David loves duck as much as I do, so I grinned when he ordered an appetizer of duck confit with fresh apricots ($9.75) and then proceeded to order the roasted duck breast with pomegranate jus ($16.50) for his main course. Jocelyn chose the evening's soup and an order of special grilled ahi in a balsamic sauce ($17.50), while I ordered the marinated beets ($8.25) and an entrée rack of lamb ($17.50).

Accompanied by a well-structured bottle of Fiddlehead Pinot Noir 1996 ($48), we enjoyed dish after successful dish, all paced around the flow of our conversation.

The evening's fresh purée of white corn soup ($5) was mysterious and compelling, lightly drizzled with a tracery of crème fraiche. An orchestration of pink and burgundy beets offered garden sweetness laced with chartreuse avocado and tiny dabs of excellent chevre. The truffle oil was extremely subtle and we agreed that a bit more of the fine goat cheese would have been welcome. The crisp confit of duck leg and thigh was served quite simply on a bed of baby lettuce with slices of apricot acting as an ace ally to the rich game.

Defying all-too-frequent practice, the entrees that evening were even better, more harmoniously conceived than the fine starters. The duck--which David, a veteran of many multistar Michelin encounters, pronounced better than anything he'd had in France--was sumptuous. Crispy, salty skin glazed each supple slice of rare breast meat. Creamy garlic mashed potatoes and a few choice al dente nuggets of baby zucchini made fine partners to both the succulent game and its tart, fruity sauce. My plump, tender lamb chops were accompanied by sensational baby Yukon gold potatoes. Firm and unadorned, they were earthy archetypes of late summer harvest. Sweet roasted onions made nice alchemy with the lamb, and everything was bathed in a haze of fresh rosemary.

Despite the above raptures, I was most charmed by the unexpected presentation of ahi. Light-years beyond the standard seared ahi cliché, this plump filet shimmered on a bed of diced Mediterranean vegetables studded with golden raisins. Red bell peppers, eggplant and raisins in a sweet-and-sour melange laced with basil oil infused the rich ahi with haunting Moroccan flavors. A balsamic sauce heightened--but lightly, very lightly--the sparkling freshness of the fish. The effect was edible enchantment, more evidence that under the leadership of chef Damani Thomas, Oswald's menu has never tasted better.

Warm chocolate soufflé ($7.50), served with a tiny pitcher of heavy cream and a cloud of fresh mint leaves, arrived for dessert quivering with tenderness--like a decadent chocolate pudding created by some Gallic Julia Child. Another dessert of Basque almond torte ($6.50) almost teased us into willing submission. Sliced almonds and a fine pastry crust encased a warm creamy almond filling so appealing that a sauce unaccountably flavored with espresso barely spoiled the effect. The coffee flavor had nothing to do with the almond torte. Grace was swiftly reintroduced by a glass of muscat dessert wine from Bonny Doon Vineyards ($4.75)--a smooth finish to such a fine meal.

The entire experience reminded us of some of our favorite meals in the land where bistros were invented. The concept, meanwhile, is purring quite contentedly at Oswald.
---
Oswald
Address: 1547 E. Pacific Ave., Santa Cruz
Phone: 831/423-7427
Hours: Dinner Tue.-Sun. from 5:30pm
Service: *** Lots of warmth and a sense of appreciation for the cuisine accompanies skilled service.
Ambiance: ***1/2 Cozy banquettes and a tiny main dining room help cultivate a distinctive bistro atmosphere.
Cuisine: *** 1/2 Excellent presentation and execution of exquisite sauces showcasing seasonal produce highlight this downtown gem.
Overall: Inviting, uncompromising and unpretentious, this downtown bistro is good enough to remind us how dining out should feel.
---
[ Santa Cruz | MetroActive Central | Archives ]