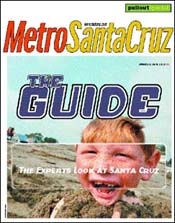 For the Week of
September 22-29, 1999
Cover: The Guide
From the beaches to the bakeries, the insiders share local lore on finding thrills and filling needs in Santa Cruz County.
Bruce Bratton's Santa Cruz: Secrets and History
How to Catch a Wave: Surfing in Santa Cruz
How to Stay Rooted: Cultural Heritage Organizations
Where to Dine Round Midnight: Late-night Eats
How to Get the Point: Piercing Parlors
How to Get Nekkid: Nudist Colonies, Topless Beaches and Spas
How to Know It All Ahead of Time: Psychics and Fortunetellers
Where to Get Funky on the Westside: The Almar/Mission Miracle
Where to Get It All on One Block: Soquel and Branciforte's Bounty
How to Geek Out: Comic-book stores
Where the Brownies Are: Finding the Chocolate Fix
How to Get a Buzz Roasted on the Spot: Cafes That Do It Themselves
How to Get a Gig: What Every Band Needs to Know
How to Kick Ass: Martial Arts Classes in Santa Cruz
What, When and Where: A Three-month Calendar of Concerts, Plays and Events
News: Scary Cruz
Local legends haunt Santa Cruz history.



Bruce Bratton: Open Studios, dissing Borders, and a proposal to stop downtown dullness.



All Keyed Up: The Santa Cruz Symphony opens with Aptos piano phenom Aaron Miller.
Liquid Sounds: Britain's Gomez revisits the psychedelic era on new album, 'Liquid Skin.'
Sights and Sounds: Kristin Hersch's muse is still strong even if her songs don't chart like they used to.
Notes From the Underground: Cream of the current zine crop, 'Concussion' knocks all the rest out.



The Cross and the Pear Tree: Victor Perera takes readers across borders.



Original Oswald: Continuing its consistent command of bistro consciousness and culinary expertise, Oswald charms us all over again.
A La Carte: Santa Cruz fisherman Dave Greenberger keeps finding new uses for the harvest of the Pacific Ocean.



Moss of Innocence: 'My Life So Far' looks back in fondness on a boy's eccentric family in Scotland.



Don's Early Light: Bay City Opera's production of 'Don Giovanni' offers mixed pleasures.