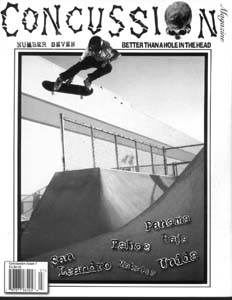 Notes From The Underground
Brain Damage
Cream of the current zine crop, 'Concussion' knocks all the rest out
By Matt Koumaras
AFTER SEVEN BEEFY ISSUES covering skate, surf and music, Concussion has established itself as the cream of the zine crop. This time around brings a neat collage focusing on local artists Mojo, Phillips, Fitz, Moish and Tyler as they each discuss their own various head injuries. The hilarious "90120 Tori" story instantly turns a day mired in the pits into a peachy state. What other local zine is going to charge punk-rock batteries with a savory interview with hardcore hairspray heroes, G.B.H.?
There's also an interview with rockers Unida that turns downright catty when discussing Queens of the Stone Age. The "Smoking Is Cool" bit is vintage Concussion satire with advice about how to be a tough-guy skater and quips like "It's super fun to get burned by your cigarette as you slam, and the scars from the burns take a while to heal." Plus learn how to skate and churn butter in the Amish apex of Lancaster, Pa. To get a Concussion, smash your skull against the cement in cadence to a touching Disney or Backstreet Boys ballad about mom. Or write P.O. Box 1024, Santa Cruz, 95061. Also see Concussion online at http://www.concussion.org.
End Times Cometh
Just as Nostradamus predicted the end of the world Sept. 11 for the 33rd time, Schlep made another ominous return that same night opening up at the Jury Room. Bio Bob took over on vocals delivering funny, boozed-up rants so old school they came before the chicken and the egg. "Buy Us a Beer" was straight-up rock cruising confidently along the Poison Idea speedway. Chris and Bio Bob (when his effects pedals weren't giving him the silent treatment) whipped out blitzkrieg blasts so affecting they knocked my ear plugs out and plopped them right into somebody's vodka tonic--which helped me generate another interesting yet unsuccessful pickup move. "Bottom of the Bottle" got a sinister metal thrash fire burning thanks to the possessed, punchy rhythms of Andy on bass and Kevin on drums. "Satan Is My Friend" was particularly amusing with Bio Bob's warning that "Satan is going to take everybody home tonight" and do very bad things. Plus any show where the dude with the tattooed face makes an appearance is automatically rendered a positive review in compliance with the Staircase Peace Treaty of '97.
Time put the pedal to the metal and rocked out in a stellar set. Jared and Lonnie's dual guitar action stapled intricate rhythms together ascending into majestic overdrive. Bill's Houdini-like drum fills and disturbing facial gestures sent permanent shivers up the spine. The song in which Lonnie took over the mic had barbed-wire guitar hooks that had shaking heads leaving their necks. Jim from Witchhook Sky joined in on bass for the last couple songs, and things really started moving. The hand of doom dictated that the group cover "Paranoid," and the band's sweaty tenacity made me vow I'd forever boycott Supercuts and defiantly cancel next week's electrolysis session.
Upcoming
Friday Boston Crab and Yind play the Stevenson Rec Room; also Friday, TSOL, Lost Cause and Betty Blowtorch (ex-Butt Trumpet) play the Vets Hall (all ages); Saturday, Lonely Kings, Welt and Jet Lag play the Catalyst.
[ Santa Cruz | MetroActive Central | Archives ]