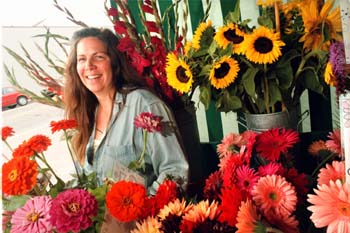 Photograph by George Sakkestad

Sunshine in a Bucket: Cathy Britton, owner of the Flower Shack, poses with some of her fresh-picked finest.

Where to Get It All in One Block

The wonders of Soquel and Branciforte

By Christina Waters

THAT WOULD BE the corner of Soquel and Branciforte, where the Buttery, Shoppers Corner, Flower Shack and Taqueria Vallarta all hang out. Spicy tacos, imported cheeses, fresh flowers and giant lattes. Throw in a convenient row of newspaper racks and a phone booth--what else do you want? (What else do you want that's legal and won't give you a heart attack?)

You can go for a run on the beach out at Seabright and then head back toward Santa Cruz via the parking lot of Shoppers Corner. You'll immediately notice the gleaming new shelving and a few spiffy improvements just made in the 60-year-old landmark. Pick out some organic fruit and salad mix, stop at the butcher counter and choose your own aged filet mignon from behind the case. The guys let you come around and check out the wares before you buy. Imported Roquefort, local chevre and some of that pungent white cheddar from Vermont can jump into your cart.

Grab some extra virgin olive oil from the dazzling array to go with fresh bread from the Buttery. Ah, the Buttery, where the custom-made caprese sandwiches are to die for. In the morning, order a tall double latte to go with the world's finest zucchini muffins or olallieberry Danish. In the afternoon, don't miss the fresh ciabatta or francese rolls for dinner. The scene here is crowded and intimate--it's a good neighborhood hit, especially if you can score a seat and hang around reading The New York Times for an hour.

Next, hit the fresh flower stand just around the corner. Tiny and funky, the Flower Shack features wonderful stuff--food for the eyes. The zinnias were electrifying a few weeks ago, and the lilies are always priced generously. Treat yourself to something gorgeous.

Then head to Taqueria Vallarta for lunch--the spicy, succulent al pastor gets my vote. Melt-in-the-mouth roast pork topped with fiery tomatillo salsa goes great with a cold tamarindo liquado. For a few dollars you can get full-on flavors worth eating.

The corner of Soquel and Branciforte. Make it a habit. You could do worse.
---
Christina reviews restaurants and more for Metro Santa Cruz.
---
[ Santa Cruz | MetroActive Central | Archives ]