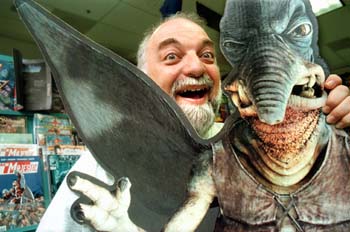 Photograph by George Sakkestad

Phantom Misters: Owner Joe Ferrara and pal Watto greet unsuspecting customers at Atlantis Fantasyworld.

How to Geek Out

Comic-book Stores

By Matt Koumaras

MY PLASTIC BAG overflows with the shame rendered from an unforgiving society. Years of electrodes have backfired as my need for another fix burns with every blink of the eye. Despite my much admired 5-foot-3 frame, 40-inch biceps with barbed-wire tattoos and diligently moussed Kevin Sorbo-like tresses, rip me open and inside beats the heart of a comic-book geek. Each foray to Atlantis Fantasyworld in Santa Cruz and other local comic-book stores confirms that I've never escaped the old days of kicking back on the porch with an A&W root beer in one hand and the latest issue of Spiderman in the other.

The quality of artwork over the last decade has truly progressed into the beyond-stunning realm. Independents have broken into the DC and Marvel hierarchy with slick, witty offerings like Kabuki, Weaselguy and Hellboy. Fantasy and adventure genres soar with Mystery Men and Geeksville. Buffy the Vampire Slayer comics help young and old cope with post-Sunnydale graduation depression. And yes, the X-Men still look as crazed by Creatine as ever.

Star Trek merchandise also abounds at Atlantis--the actual engineering deck of the Enterprise is featured with a catwalk, view screen, port windows and authentic sounds. Trekkies can be seen drooling over the actual liquor cabinet Scottie used while cruising for love in the starship on Friday nights.

The tantalizing anime selection at Comicopolis on Water Street includes a full catalog of Oh My Goddess, Shadow Lady and Blade of the Immortal comics. As I tell myself that this Spawn purchase will be my last, I'm handed "comic book" bucks that are good toward my next comic binge. My pushers will see my addiction through to the bitter end. Don't forget to finish your weekend comic-book run with stops at the Clubhouse on Soquel Avenue and Triple C in Scotts Valley.
---
Matt covers the punk scene in Metro Santa Cruz's Notes From the Underground column.
---
Atlantis Fantasyworld
1020 Cedar St., SC (426.0158)
Clubhouse
714 Soquel Ave., SC (423.9768)
Comicopolis
738 Water St., SC (427.1929)
Triple C
3105 Scotts Valley Dr., SV (438.2032)
[ Santa Cruz | MetroActive Central | Archives ]