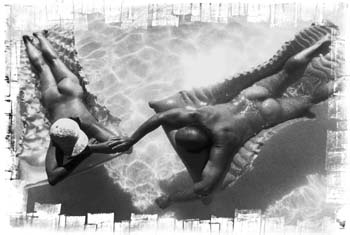 Photograph by Robert Scheer

Fun in the Sun: Two nudists enjoy the pool at Lupin.

Where to Get Nekkid

Nudist colonies, topless beaches and clothing-optional spas

By John Yewell

YEARS AGO, as a young UCSC student, I was riding the Seabright bus along Laurel Street to my yacht harbor digs. I glanced out the window as we passed Foster's Freeze and saw something that caused every head on the right side of the bus to swivel like a weather vane: a young woman, stitchless and oblivious, walking down the street. That was something I would never have seen back home. In the city of Santa Cruz, you can walk buck naked down Pacific Avenue and not break the law--although a lewd gesture will put you afoul of state indecent-exposure rules. Ironically, at UCSC, that bastion of liberalism, campus policy since 1997 has forbidden outdoor nudity.

Although social nudity may be more accepted in Santa Cruz than in many places, don't expect to see naked nymphs sipping iced teas in the cafes. The rules of discretion apply as much here as elsewhere. While nudity on some city beaches is common (both the state and the county forbid nudity on their beaches), the city has managed to avoid public pressure to adopt an anti-nudity ordinance because officials have not been overwhelmed by complaints. Most folks would like to keep it that way.

There are at least four commonly accepted nude beaches in the area, and another half dozen or so where nakedness has been reported. There are also four spas in town, two of which have garden areas where the ages and sexes can freely mingle in the buff--as long as nude social conventions are respected.

To have a truly outdoor "naturist" experience, however, it is necessary to cross the county line, but only by a few miles, and go to the Lupin Naturist Club. Located on a sunny hillside off Los Gatos Creek, south of Lexington Reservoir, Lupin has been around since 1936. Today it is run by two young, fit grandparents, general manager Jay Roth and his partner, Sunshine Roth.

The image most people have of "nudist" clubs is of a largely older, predominantly male clientele, and although Lupin strives for gender and age balance, this is also the case here. Still, when I first call Jay to arrange a visit, it is clear he has a sense of humor about the stereotype. When I tell him I'm a reporter, he is excited about my coming. "We could use the exposure," he deadpans.

Lupin has always been a pricey membership organization, but Roth wants to change that. While maintaining its 1,000-member base, Roth and owner Glyn Stout are in the process of transforming Lupin into a "resort" that anyone can visit. Recreational facilities on the 110-acre grounds include two pools, two tennis courts, a sauna, a hiking trail and a volleyball court. Lodging can be had in yurts, trailers and some cabins, or visitors can pitch a tent. There's also a restaurant, and a new lodge is on the drawing boards.

As I tour the grounds (clothed--it is a shy day), a family of deer forages, oblivious to the people. One woman appears to be a few months pregnant, another member is a retired police officer--giving an all-new meaning to the term "plain-clothes" cop. And although the average age seems considerably north of 50, there are also families with young kids and several thirtysomethings.

I ask Roth about what first-timers are naturally curious about: sex.

"You'd have a better chance of picking someone up at the local bookshop than here," he says. "Public eroticism and sexual exploitation," according to the lit, "are not acceptable at Lupin."
---
John spends most of his time exposing public officials.
---
Lupin Naturist Club
20600 Aldercroft Heights Road, Los Gatos (408.353.2250)
Spas
There are four spas where you can share a hot tub, get a massage or bake in a sauna. Kiva Retreat House and Heartwood Spa sport outdoor tubs in community garden areas. But be on your best behavior: it is not appropriate, as a sign at Kiva points out, to offer a "massage" to a stranger.
Kiva Retreat House
Community hot tubs, sauna, private tubs, massage and fireplace/lounge area. Sun.-Thu. noon-11pm; Fri-Sat. noon-midnight; women's AM: Sun 9-noon
702 Water St., SC (429.1142)
Tea House
Private tubs overlooking Japanese gardens, sauna, massage, facials and body care. Noon-midnight
112 Elm St., Santa Cruz (426.9700)
Well Within
Tub rooms (some with sauna) overlooking Japanese gardens, massage and skin and body care. Noon-midnight
417 Cedar St., SC (458.9355)
Heartwood Spa
Community garden setting, hot tubs (one private), sauna and massage. Noon-11pm
3150-A Mission Dr., SC (462.2192)
Nude Beaches
Practically every beach in the county has had a report of nude sunbathing at one time or another. And while most privately owned beaches along the local coastline have public access, there are really just a few where nudity is common.
Bonny Doon Beach
Parking lot across from Bonny Doon Road. Go to the sheltered cove at the north end.
7.9 miles north of Western Drive on Highway 1
Red, White and Blue Beach
Look for the red-white-and-blue flags and large mailbox numbered 5021 on west side of the road. Drive down Scaroni Road about a quarter mile. This a private beach with a $5 daily entrance fee ($10 overnight).
5.2 miles north of Western Drive on Highway 1
2222
This is a small beach, so check the tide charts first.
Across from 2222 West Cliff Drive, SC, a few blocks south of Natural Bridges
Its Beach
North of Lighthouse Point on West Cliff Drive, opposite Stockton Avenue
The following beaches are occasionally nude.
Scott Creek Beach
11.9 miles north of Western Drive on Highway 1
Davenport Cove (a.k.a. Shark's Tooth Cove)
8.4 miles north of Western Drive on Highway 1
Panther and Hole in the Wall Beaches
Hole in the Wall is south of Panther through an opening in the rocks. Auto vandalism has been reported at the parking lot.
6.8 miles north of Western Drive on Highway 1
Laguna Creek Beach
6.2 miles north of Western Drive on Highway 1
Four Mile Beach
Cross the train tracks, then a 10-minute walk to the beach
3.8 miles north of Western Drive on Highway 1
Manresa State Beach
This is a state beach, so nudity is against the law, but rumor has it that the dunes at the north end and on adjacent La Selva beach are havens for nude sunbathing.
Exit Highway 1 at San Andreas Road and drive to the end
[ Santa Cruz | MetroActive Central | Archives ]