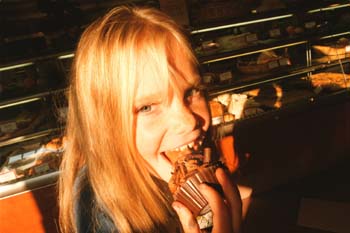 Photograph by George Sakkestad

A Bite for Soaring Eyes: Seven-year-old Sarah Wilks takes a taste of a chocolate mousse cup at Gayle's.

Where the Brownies Are

One woman's guide to chocolate fixes

By Janet Blaser

IT'S NO SECRET, the draw that chocolate has over us humans; in almost every culture, for centuries, it has been romanticized, investigated, explored and enjoyed. This humble byproduct of the cocoa bean has been called everything from an aphrodisiac to addictive, and it is rumored to possess mystical qualities. It is also, well, just plain delicious.

In Santa Cruz, where do you go to satisfy that chocolate craving? I can reveal my quick-fix spots: anything from master chocolatier Richard Donnelly (dark chocolate-covered raspberries--heavenly!; 1509 Mission St., 458-4214); clear chocolate martinis (Clouds Downtown--oops, should this be on another list?!). Also, when found, Aunt Nettie's mile-high chocolate cake is more-than-a-mouthful--if it's fresh. I have no qualms inquiring of a coffee shop or bistro when their baked goods were delivered. These small bakeries don't use preservatives, so if it's more than a day old, I'll pass.

An excellent spot that provides good selection, high quality and ease of acquisition is Gayle's Bakery in Capitola. There, the chocoholic is confronted with an array of goodies stretching indeed as far as the eye can see (inside the building, anyway). I have my favorites: the chocolate macaroons, thick, dark mounds that are simultaneously crunchy and chewy; a chocolate mousse cup, a 2-inch literal chocolate cup filled with an exuberant abundance of exquisite, rich dark chocolate mousse, topped with semi-sweet shavings and finished with a roll of paper-thin chocolate ... sigh.

Downtowners know that Jack's Hamburgers on Lincoln Street offers more than burgers and fries--the chocolate milkshakes ($1.65) and that nondescript-looking chocolate cake on the counter ($1.25) are both worthy of inclusion as Great Chocolate Finds of Santa Cruz.

And then there are the chocolate chip cheesecake muffins from Rebecca's Mighty Muffins, a Santa Cruz classic--and for good reason. The trick is to buy them from the source--fresh from the oven, melt-in-your-mouth moist and bursting with just the right combination of flavor and texture. Here, too, you can find mini-versions as well. Yes, Rebecca's creations are available at other cafes and even grocery stores--but when these are fresh, there's no comparison.

Perhaps my biggest score has been realizing the true nature of the thick Italian hot chocolate at So Say We. Don't be fooled by the humble name; this is a true connoisseur's item. Owner/chef David Jackman creates a "drink" that resembles hot pudding--best eaten slowly with a spoon. I have seen, with my own eyes, orgiastic ecstasy running rampant through the small cafe, incited by one person's ingestion of this hot cocoa. Strangers become friends. Friends become--well, you know.

This list wouldn't be complete without mention of Saturn Cafe's chocolate madness. (There's also a mini-madness for those mini-moments.) Aptly named, this confection is a conglomeration of some of the most-requested items in the chocolate world: mousse, ice cream, brownie, hot fudge. Balanced with whipped cream and a smattering of mini-chocolate chips, it's a dream come true--almost. If, like me, nuts in ice cream make you cringe, then consider yourself forewarned. There are almonds buried in here.

Sometimes, when that craving hits, you just want a fix and you want it fast. In that case, don't overlook the venerable 24-hour Safeway. Hidden in the midst of aisles and aisles of inexpensive, mediocre-quality chocolate goods, you can find some real goodies. Pepperidge Farm cookies; Häagen-Dazs ice cream; After Eight Mints, Nestle's Semi-Sweet Chocolate Chips. My favorite? A big ol' bowl--or two--of Cocoa Puffs. The only problem is explaining the box to my kids the next morning.
---
Janet Blaserwrites Metro Santa Cruz's A la Carte and Meal Ticket columns.
---
[ Santa Cruz | MetroActive Central | Archives ]