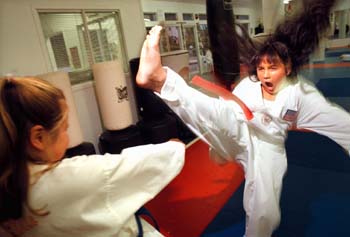 Shawnelle Guzman kicks ass while working out at the Aptos martial arts academy.

How to Kick Butt

Martial Arts Academies and Classes

By Mary Spicuzza

IT COMES as no surprise that Santa Cruz has hosted countless peace protests, support groups following Jerry Garcia's death and drum circles for sensitive New Age guys. But who could have imagined known that our coastal haven also boasts one of the highest concentrations of martial arts studios in the nation?

Cynics may say the numerous schools merely attract people looking to unload some of that pressure to be perpetually happy and hate-free with a little hand-to-hand sparring relief. But Master Soonho Song, head instructor of Song's Martial Arts Studio, says that nonviolence is at the core of Tae Kwon Do. And he should know, being a seventh dan black belt and all.

When it comes to butt-kicking methods, Santa Cruz plays host to a school devoted to just about every style imaginable. And just about every head instructor agrees that getting centered through each art's philosophy is as important as the physical training. Local offerings include age-old Eastern arts like Shaolin Kung Fu, traditional karate styles, Korean Tae Kwon Do and Ninjutsu. Ninjutsu, a lesser-known Japanese style practiced at the American Bujinkan Dojo, has evolved from the arts of Japanese ninjas--known as masters of intrigue--for more than 1,000 years.

Joining the Asian methods offered in town are Capoeira, derived from the dance, music, ritual and fighting techniques of Brazilian slaves, and Pankration. Pankration, although just getting a boost in town with the opening of Brian Burns' Integrated Martial Sciences Academy, has a rich history. An Olympic sport in Ancient Greece, it will rejoin the games in 2004 when they're held in Athens--just four years after Tae Kwon Do's Olympic premiere.

Just about AnyTown, U.S.A. offers classes in kick boxing. But few provide such a wide range of ample opportunities for achieving nonviolence through physical training--all while learning how to transform kicking butt into an art form.
---
Mary Spicuzza is currently testing for a red belt in Tae Kwon Do.
---
Academy of Martial Arts
Shaolin Kung Fu, Tai Chi, chi kung, self defense
570 Soquel Dr., SC (475.1429)
Aikido Dojo
Aikido, sword, staff and hand-to-hand techniques
Watsonville, (726.3217)
Aikido of Pajaro Valley
Aikido, sword, staff and hand-to-hand techniques
1040 E. Lake Ave., Watsonville (722.0838)
American Bujinkan Dojo
Ninjutsu
147 S. Morrissey Blvd., SC (466.0231)
American Tae Kwon Do
117 E. Lake Ave, Watsonville (728.4568)
Aptos Martial Arts Academy
Olympic Tae Kwon Do, kick aerobics, yoga, Brazilian Jiu-Jitsu
7000 Soquel Dr., Aptos (688.1118)
Beach Flats Community Center
Tae Kwon Do classes for neighborhood youth
200 Raymond St., SC (420.6125)
Claudio Franca's Brazilian Jiu-Jitsu
Jiu-Jitsu, women's self-defense
1658-C Soquel Dr., SC (476.7650)
California Karate Academy
Traditional Shotokan karate
131005 Pine St., Boulder Creek (338.1340)
Castillo's Shotokan Karate-Do
2016 Freedom Blvd., Watsonville (728.2686)
Integrated Martial Sciences Academy
Pankration, kickaerobix, self-defense and personal training
531 Seabright Ave., SC (466-0963)
Kemposilama Self-Defense Institute
Black-belt program, kickaerobix
1515 Mission St., SC (458-0900)
Korean Martial Arts Academy
Hapkido, Tae Kwon Do, self-defense weaponry
3702 Portola Dr., SC (476.5555)
North Bay Aikido
306 Mission St., SC (423.8326)
Rod Sanford's Traditional Karate
Shorinji Ryu traditional style.
4626 Soquel Dr., Soquel (475.9676)
Santa Cruz Jujitsi Academy
Classes in Danzanryu Jujitsu, kickboxing, Capoira, machushindo
328 Ingalls St., SC (458.0164)
Santa Cruz Karate
Traditional karate
(427.1333)
Scotts Valley Tae Kwon Do Academy
Fitness kick-boxing, traditional Tae Kwon Do, supplies shop
222 Mount Hermon Rd., Scotts Valley (438.6068)
Seishindo Traditional Karate
Some women-only classes
1900 17th Ave., SC (476.0200)
Song's Martial Arts Institute
Tae Kwon Do, judo
152 Walk Circle, SC (458.1840)
Tiger Martial Arts
Tae Kwon Do, Charles Gracie Jiu-Jitsu
208 Mount Hermon Rd., Scotts Valley (461.9322)
Watsonville Gung Fu Club
1100 Main St., Watsonville (768.8879)
Watsonville Karate
Traditional karate
55 Crestview Dr., Watsonville (722.2296)
Watsonville Tae Kwon Do Academy
Plus kick-boxing
978 E. Lake Ave., Watsonville (722.0963)
[ Santa Cruz | MetroActive Central | Archives ]