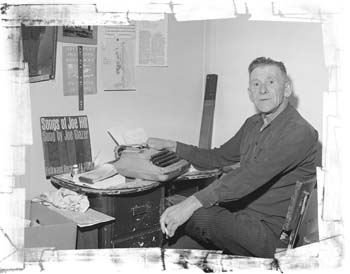 Covello & Covello Historical Photo Collection

The Real Tom Scribner in 1964: This picture was taken in Davenport at Tom's newspaper office. Note the Songs of Joe Hill LP; there's also a photo of the Boardwalk burning and a poem titled 'Let's Be Friends' on the wall. I'd tell you the last line of the poem, but this is a family newspaper. This is the guy whose statue shows him playing a musical saw in front of Bookshop Santa Cruz.

Bruce Bratton's Santa Cruz

WHAT IS A GUIDE TO SANTA CRUZ ANYWAY? For me, it's what makes this city and the larger community what it is today, and that's based on what it was before and what we want it to be like in the future. After living in Rochester, Buffalo and New York City on that coast, I lived in Pasadena, Tacoma, Berkeley and San Francisco on this coast. After moving to this county in 1970, I lived on Swanton Road, Bonny Doon, briefly in Live Oak, a year in Watsonville and now live damned close to the focus of it all: downtown Santa Cruz. I've written a form of my weekly colm since April 1955 in six different (very different) papers. During that time I've seen lots of changes, and yet there's a lot of a specialness in Santa Cruz that will never be killed. Here's a selective guide for newcomers and old-timers alike to some of the secrets of this place and some of the history. But it would take a book to do it all--call this Part One.

That Statue

Any guide to anything is supposed to be truthful, so you should know right off that Tom Scribner wasn't a very good musical saw player. It's true he played on Pacific Avenue frequently, but he never played for money--it was barely a hobby. He did play with a trio named the Lost Sound, but his main interest in life was politics and, more than that, fighting the good fight for unions. So when you look at that statue in front of Bookshop Santa Cruz, recognize it as a tribute to a scrapper, an organizer and the editor of The Redwood Ripsaw, a mimeographed newspaper he produced from the office pictured.

Good Old Days

I think Santa Cruzans used to have more community fun than we do now. We had parades, lots of parades; even recently, we had a Mardi Gras parade. We had a Spring Fair Parade, we had a Miss California Parade (never mind about that), we had a magnificent Fiesta Parade, we even had a parade when Tom Scribner died. Now there is only the absolutely magnificent First Night Procession ... but it's not enough.

We even had an opera house back in 1877; it stood about where the Goodwill store is now on Union Street, and John L. Sullivan appeared there. The Santa Cruz Theatre was on Walnut where the Walnut Avenue Cafe and Fortier's Opticians sit now. Back in 1910, Mack Swain ran the Unique Theatre about where New Leaf market now operates. Big old hairy Mack Swain went to Hollywood and was Charlie Chaplin's co-star in such classics as The Gold Rush.

You've seen old photos before of the legendary Venetian Water Carnival held on a dammed-up San Lorenzo River--that was back in 1895 or thereabouts. We have plenty of those commercially oriented "art and wine sales with token entertainment-type events," but we had more genuine community fun back then.

Which Way Is Up?

You need more than a guide to help you find directions around Santa Cruz County--you need a compass or one of those satellite locators. Just remember that the mountains are north, that Highway 1 really runs west and east. Also note that the ocean is east if you're on West Cliff near Gharkey; it's south if you're on East Cliff near Third and west if you're out by Moran Lake Beach.

The other problem is that you can't always get there from where you are now. Por ejemplo, getting from Third or Fourth Avenue to Fifth or Sixth Avenue is difficult when the yacht harbor is in the way. It makes it impossible to give tourists directions, and locals usually revert to directing by landmarks. I think all locals subconsciously drive themselves only by landmarks and never by street names for that reason.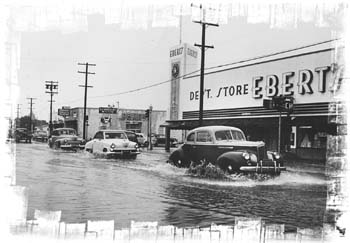 Covello & Covello Historical Photo Collection
Rising Tide: Santa Cruz motorists at Soquel and Seabright forge ahead through flood waters in the 1950s.
The Next Flood
Most newcomers aren't as aware as they should be that all of downtown Santa Cruz is built on a flood plain. Maps from various years show us that in the old days, the San Lorenzo River would race along the cliffs below Kentucky Fried Chicken on Branciforte, then totally change course the next year and wash out everything over by the cliffs behind San Lorenzo Lumber on River Street below the Holy Cross Church. Matter of fact, we lost an original mission or two before the padres relocated the last Santa Cruz Mission right where the church stands now.
Video Veritas
Here again, big chains like Blockbuster and Hollywood Video have driven out many fine little video rental places, like (for a recent instance) Flick Stop Video on Brommer. If you are genuinely interested in a wide selection of foreign films or just good films and don't need 40 copies of Titanic, by all means go visit AAA Video Express in Soquel right on the corner next to the Christian rubber tire store. On the Westside, go to Westside Video hidden behind Sabieng Thai Restaurant on Mission where Saturn Cafe and Baskin Robbins used to be. Both those places care about films and know a lot about good ones.
Naming Names
For years, I've led a lonely battle to correct the spelling of the Louden Nelson Center to London Nelson. London Nelson was an early African American settler here. Somebody read his signature wrong on one document, and it's been spelled wrong ever since. All of London's brothers were named after famous cities in Europe, and so was he.
Cabrillo, as in Cabrillo College, should be spelled Cabrilho, as in Joao Rodrigues Cabrilho, which was his name--not Juan Cabrillo, the new version. At least Cabrilho was the closest any historians could come up with, because he was Portuguese and his birth records were destroyed during an earthquake in Lisbon back in the 1500s. The odd thing, however, is that there is no proof that Cabrilho, who was supposed to be an early explorer of the north California Coast, ever got north of the Channel Islands near Santa Barbara. Cabrilho was buried there.
The reason they named the college after him is because former Sentinel colm writer and good friend Wally Trabing thought it was a good idea. I continue this probably futile habit of spelling correction in an effort to raise some ethnic awareness--and to keep people talking about just who these historic figures were and to give them proper respect.
City of Unusual Attitudes
Santa Cruz has way more than its share of moviegoers. The ratio of movie screens to people is way up there. Santa Cruzans won't rent any dubbed videos and won't attend any dubbed foreign films. That's not true hardly anywhere else near here. Santa Cruzans don't go for Chinese or French films either--go figure.
This city has cutting-edge high-tech moving in and the latest in marine sciences and still votes down adding fluoride to the drinking water in spite of dentists, doctors and scientific proof of the benefits from around the world--figure that one too. People move here because of the unique living style, and some then turn around and want to bring in every chain store and franchise operation that offers mass-produced goodies. Our once charming and individualistic downtown is becoming like anytown while we watch.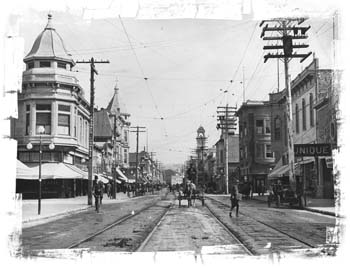 Covello & Covello Historical Photo Collection
Good Old Days: This 1910 view of Pacific Avenue looking north from Lincoln and Soquel shows Mack Swain's Unique Theater, located where New Leaf Market is today.
Singular Business
We should support and have a special respect for Riverside Lighting & Electric. Riverside has been in business since 1962 and is among the very last of stores where you can get such individual attention and such learned advice. This is no chain store, folks. It's the way all stores used to be: they wait on you, sell you only what you need and have anything you want in the way of lighting and electricity. Grocery stores, clothing stores and department stores all used to treat you like Riverside does and sell merchandise like that.
Ted Giubini's Eastside Hardware, which used to be out on Soquel Avenue next to Wilson's Tire Service, was that way too. That was where I had my first Santa Cruz job as a clerk, back in 1970, and where I met Wally Trabing and Dr. Gail Magid and hundreds of hardware enthusiasts I still see around town. The Economy Drug Store at 907 Cedar St. is another example of a well-run locally owned independent business. Economy's prescription prices are much lower than those at Safeway, Longs or Rite Aid. I asked a pharmacist formerly with one of those chains, and he agreed. Try getting some prices over the phone--you'll see.
A Bit More History
Santa Cruz has always been an isolated community. In the early pre-Christian days, the several Indian groups here spoke many different languages. They traded widely, but life was so bountiful the locals had little reason to leave the area. When the missions were developing, no local Indians would go to San Juan Bautista and vice versa. The citizens of Watsonville even burned the only bridge to south county (over the river in Aptos) several times to prevent the spread of diseases and Santa Cruzans in general.
Highway 17 and Highway 1 both have the worst-looking approaches to our city businesswise, and still people come. Now Santa Cruz is being called Silicon Beach, as if we're the beach for Silicon Valley. As we see more of each day, UCSC, developers and even some small businesses who still think encouraging growth is the only way to success are trying to figure how to widen those highways, rezone agricultural land, add more chain stores and build more unaffordable housing. As previously mentioned, trying to maintain some semblance of community character and working to keep some control of reasonable and necessary growth are the price we pay for living in this paradise.
[ Santa Cruz | MetroActive Central | Archives ]