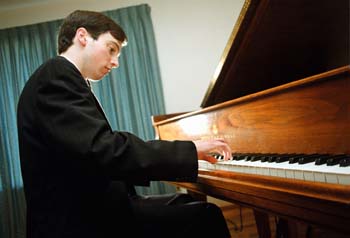 Photograph by George Sakkestad

Sophomore Season: Pianist Aaron Miller solos on Sergei Prokofiev's Piano Concerto No. 3 to open the Santa Cruz County Symphony's season, then wings back east to finish his second year at Harvard University.

A Pianist Prepares

Aptos Hi grad Aaron Miller aims for a concert pianist career but still hits the books at Harvard

By Rob Pratt

ICONOCLASTIC UCSC professor Jasper Rose once boomed to my Porter College core class about how to get good at art. If you're a painter, he said, it takes decades and your career only really takes hold when you're older. If you're a writer, you can develop skill in your 20s, but it takes much life experience to know what to write about. If you're a musician, he concluded, you'd better be good by the time you're college-aged or it'll never happen.

The reason it's different for musicians is really quite simple: Young players just don't know how tough it is to develop as a musician. They have the stamina to play for hours every day, working out on tedious scales and fingering exercises. And before college, social demands don't seem to get in the way as much.

Prodigious pianist Aaron Miller, who at 19 takes the stage Saturday and Sunday to perform Sergei Prokofiev's Piano Concert No. 3 with the Santa Cruz County Symphony, seems to be learning all that. He talks about how tough it is to balance practice time and his studies at Harvard University. But he enjoys an advantage--he's already a very good player and well on his way to making a name for himself as a concert pianist.

"I've tried to get a lot of the major repertoire," he says, taking a break from running third movement flourishes at the end of the Prokofiev concerto. "It's good to learn repertoire when you're young because--well, a pianist I was reading, David Dubal, in a book called Reflections From the Keyboard, was saying it's good to learn repertoire when you're young because then you don't know how hard it is and you don't really have any of the obstacles there."

This weekend's season-opening concerts mark the third time Miller has performed with the symphony as a featured soloist. And though he expects his Harvard studies will make it difficult to perform any recitals during the school year, he's preparing for an April date with the Santa Rosa Symphony, where he's the featured performer on Edvard Grieg's piano concerto.

DRESSED CASUALLY in shorts and a Harvard sweatshirt and sprawled on a couch in the living room of his parents' home in a quiet, hillside neighborhood in Aptos, the lanky, animated Miller hardly seems daunted by his heavy college and musical workload. Enthusiastic and speaking quickly but clearly, he's confident about preparing both the Prokofiev and Grieg concertos. For him, they are problems easily solved with disciplined study and a focused determination to work out technical challenges.

"It sort of depends on the composer," he explains. "Like with the Prokofiev, I find myself working mostly on the technique because the music--it doesn't play itself, but I think the musical expression is pretty straightforward. Also, since it's an old piece for me, I think I understand the structure and everything by now. So I don't worry about that as much."

John Larry Granger, conductor of the Santa Cruz County Symphony as well as the Youth Symphony, spotted Miller four years ago. Long a champion of young players--Granger's interest in conducting developed from leading high school bands--he tapped an 11-year-old Miller seven years ago to perform excerpts from Beethoven's Piano Concerto No. 1 for the symphony's annual family concert. Two years ago, he showcased Miller on Robert Schumann's Piano Concerto in A Minor, a performance that earned standing ovations from an audience enchanted with such gorgeous and sensitive playing by a young player of one of the most famous pieces of the romantic era.

Miller, Granger says, has developed very quickly, and he's been able to overcome some of the fundamental obstacles of becoming a concert-level performer.

"He likes challenges," Granger explains. "He's a problem solver. There are a lot of young people with an artistic mentality, and they're naturally gifted. But they're not great at analyzing and problem solving.

"The trick is to try to solve technical things early," he continues. "It's less difficult for young players--like a lot of athletic things."

Miller got an early start. At the suggestion of his parents, he took up piano lessons at age 6. Though he says he didn't really decide he genuinely wanted to play until he had had a couple of years of lessons, he had plenty of encouragement to keep going.

"Sometimes my dad would sit at the piano with me and work out some stuff because he knows a little piano," Miller recalls. "And at the beginning, he was sort of trying to learn along with me. When I would play concertos, he would play on the second piano [of two the family owns] accompanying me on the orchestra part."

John Orlando heard Miller play a solo recital when Miller was an Aptos High sophomore. Orlando set up a public performance as part of the Cabrillo College Distinguished Artists and Concerts and Lectures series. It was Miller's first major solo recital, and afterward he kept busy with recitals and piano competitions until graduating with honors from Aptos High. Miller slowed down his performing to attend Harvard beginning last year, and instead of studying music he's working on a degree in computer science. He continues to play piano, studying privately.

"I think for me all the time in high school, and even before that, it had been sort of this conflict between music and my homework," Miller says. "And even though that was kind of frustrating that I couldn't get in all the practice time I wanted, I think coming back to studying the piano after studying all these other subjects--which is not necessarily that I didn't like them--coming back to the piano made me realize how much I really enjoy it. So I think music combined with other stuff is a healthy mix for me, whereas in a conservatory you get all music classes and intensive lessons, and I think the level of competition is more intense than at just a university, where not everyone is going on to be a professional musician. I think it's nice to have that balance."

Miller, though, is definitely set on a career playing the piano. He says it matter-of-factly, not with obsessive drive or an all-consuming passion but with a genuine determination that recognizes both the difficulties and the joys of a life as a concert pianist.

For Granger, Miller has come a long way toward making it as a concert pianist. College is a good step, he says, and Granger salutes his decision to focus on getting an education the same way he would encourage a college basketball star to get a degree before turning pro. But though Miller has come this far, Granger adds, he still faces many more tough moments.

"I think people who have long-lasting careers in this business have developed slowly," he says. "And it's not necessarily a bad thing, no matter what anyone does, to have a backup. Everybody who goes after a career in music finds something hard along the way that's difficult to overcome, and it's how they solve those that show what they're really going to do."
---
The Santa Cruz County Symphony features Aaron Miller in Sergei Prokofiev's Piano Concerto No. 3 8pm Saturday at the Santa Cruz Civic Auditorium, 307 Church St., Santa Cruz, and 3pm Sunday at the Mello Center, 250 E. Beach St., Santa Cruz; $17-$32; 420-5260 or 763-4047.
---
[ Santa Cruz | MetroActive Central | Archives ]