Local Compact Discs
Netwerk Electric
Self-Titled
Red Sun Records
The biggest question surrounding this much- anticipated debut from one of Santa Cruz's finest is whether or not the six-member Netwerk Electric can successfully translate their incredible live shows to a studio format. Indeed, two of the six songs on this self-titled CD were recorded live at Santa Cruz venues the Catalyst and Front Street Pub (the place where Netwerk Electric began), while the other four were laid down at the Coyote Ridge Paradise studio in Aptos.
To be sure, there are plenty of danceable tunes here to keep the average neo-Deadhead noodle stompin', though there are points where the album lags. For one thing, every track is essentially an extended jam--a lather of groove-heavy jazz peppered with funk. It's candy for Santa Cruzan ears, but as with all sugary products, after a few minutes the high begins to ebb.
The brightest moments come when guitarist Jason Concepcion and saxophonist John Whooley are turned loose and allowed to match each other's leads note-for-note. Keyboardist Justin Fagnani-Bell also stands out with his muted '70s-era licks that bring to mind the "Taxi" theme song. (David Espinoza)
---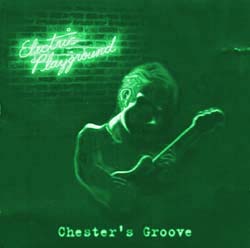 Electric Playground
Chester's Groove
Frantic Dog Music
Most know Soquel as a vortex for antique vendors rather than a musical hub bustling with the blues. But the young blues-rockers of Electric Playground, who released their first full-length CD, Chester's Groove, this summer, seem hell-bent on changing all that. Rather than imitating traditional blues masters like Ma Rainey or local legend Robert Lowery, Playground pens its own original Hendrix-inspired tunes and packages them on an impressive 12-song debut album.
Few can beat the trio-turned-quartet's unapologetic honesty on "Every Now and Then" when they ask, "What can I do? I fall in love with you, every now and then." The boys balance charming lyrics and a way with song titles, like "Whisky, Cocaine & Women," in both their harder rock and their mellow ballads. And "Down by the Riverside" could easily become a national anthem for the brokenhearted. (Mary Spicuzza)
---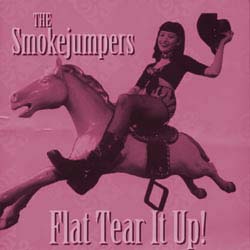 The Smokejumpers
Flat Tear It Up
Self-Produced
Hey, city slicker, here's an entry that flat-out rocks courtesy of a band that was country when country was old school. "A Place to Park" sticks slabs of salt on a jitterbug guitar shuffle and kills it dead with big, slapping stand-up bass from Noah "Butta" Fingers. I couldn't keep from cracking up when King Teen cries, "Double-Park It, Boys" before swinging along to a sexy-as-sequin guitar solo. Song title of the year honors go out to "Them Pretty Boys Are All the Same But Us Ugly Guys Got Style." "My Baby Thinks She's Betty Page," with cheesy lines like "Those stiletto heels, those high-pitched squeals," is Hee-Haw for the '90s. If KTOM doesn't put "I Love You (But You're a Lyin' Sack of Shit)" into steady rotation, arteries will bleed. (Matt Koumaras)
---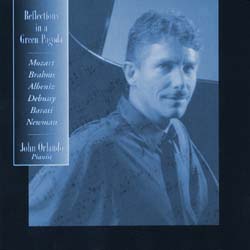 John Orlando
Reflections in a Green Pagoda
Self-Produced
Most of the time, behind-the-scenes organizers in the area's performing arts scene shy from the spotlight. Thankfully, though, pianist John Orlando, founder of the Cabrillo College Distinguished Artists' Concert & Lectures Series, has stepped forward with this collection of solo piano classics. A beautiful player best on expressive pieces, Orlando turns out technically strong but dull readings of Mozart's Sonata in B-Flat Major and Brahms' piano pieces. But his interpretive skill really comes through on works by Isaac Albeniz, Claude Debussy and George Barati (who composed the title work for him). All in all, it's a good recording of a great local talent--and, done as a benefit for the Carole Pagan Holdaway Concert Grand Piano Fund, it's also a great cause. (Rob Pratt)
---
[ Santa Cruz | MetroActive Central | Archives ]