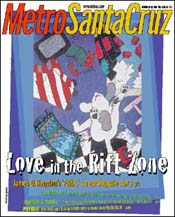 For the Week of
October 13-20, 1999
Cover: Love in the Rift Zone
A temblor tale by Santa Cruz novelist James D. Houston. Plus: A rundown of local events commemorating the tenth anniversary of the Loma Prieta earthquake.



Build it, Already: Bruce Bratton updates the push for the downtown plaza/park.



Viva Death in Vegas: 'The Contino Sessions' injects electronica with a jolt of rock.
Local Compact Discs: Reviews of the latest releases by Netwerk Electric, Electric Playground, The Smokejumpers and John Orlando.
Sights and Sounds: Web fans land Santa Cruz indie-rockers on a new South American compilation.
Notes From the Underground: The Huxtables slayed 'em at Skinny's with wit and charged-up guitar hooks.



Shogun Shows Off: New sushi destination lures downtowners.
A La Carte: Real Thai brings its culinary vision to Westside Santa Cruz.



Pitt Bullies: 'Fight Club' subverts the macho club of mayhem.
Daily Drama: The Margaret Mead Film & Video festival looks at social and cultural issues from around the world.
Polymorphously Perfect: 'Better Than Chocolate' imagines Vancouver as a sexual paradise.
'Hearts' Failure: Sydney Pollack's stodgy 'Random Hearts' finds little warm in romantic intrigue.



Z Best: The Z Festival brings a sampler of new San Francisco theater to Santa Cruz.