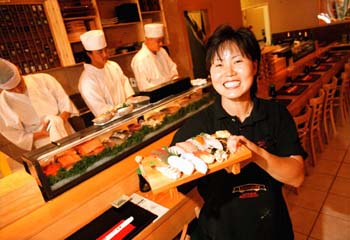 Photograph by George Sakkestand

Going for the Gusto: Shogun owner Kim Park shows off the restaurant's signature sushi creations.

Sizing Up Shogun

Downtown Santa Cruz adds spicy wasabi to its dining arsenal at Shogun, where sushi makes a samurai-sized statement

By Christina Waters

THE LATEST DARLING of the night crowd is downtown Santa Cruz's new sushi palace, Shogun, where colorful "Hello Kitty" totems line the back bar. Four sushi chefs worked their blades off last week orchestrating that visual razzle-dazzle that is sushi. While the menu is packed with teriyakis, udon and donburi creations, it was sushi we craved and sushi we got at our debut meal.

From its beautiful artwork framed in black lacquer to the dramatic red-brimmed lights suspended from the ceiling, Shogun makes a contemporary statement. The central aisle appears a bit large and empty--a small seating island might add coziness--but otherwise there's a lot to like.

Especially a menu front-loaded with creative and classic sushi possibilities. Our waitress was prompt and helpful in taking our orders, bringing a glass (no flute, unfortunately) of Domaine Chandon ($5.50) for Jack (champagne makes a great partner for Japanese flavors) and a small hot sake ($2.95) for me.

First we ordered our main events: I went for a sushi trio--the Westside roll ($4.95), a Hawaiian roll ($4.75) and my all-time fave, tekka maki with shiso ($3.50)--and Jack ordered a full-on Shogun sushi dinner No. 2 ($15.95). Then we launched into appetizers. Shogun has gyoza down cold--or, rather, hot and crispy. These little deep-fried wontons ($4.95) were delicious, like homemade potato chips wrapped around shrimp and pork filling. The accompanying lemony dipping sauce was excellent as well. A chewy seaweed salad flecked with sesame seeds ($4.75) made us both happy, and an order of sunomono offered transparent cucumber slices saturated with a vinegary brine ($2.50). With the gyoza came a tasty slaw topped with the same addictive miso dressing that had Jack purring. Even over his iceberg lettuce dinner salad, this blend of fermented soybean paste and mayo was fabulous.

Going for the gusto rather than classic sushi elegance, our entrees were presented on large trays. My three sushi orders sat like fat nuggets of fish and rice--pretty, but featuring enough sticky rice to feed the computer animators of Pokémon. Jack's nigiri sushi octet made an overwhelming statement. Each slice of fresh raw fish--octopus, yellowtail, ahi and salmon, among others--must have been at least 6 inches long. Very daunting. Each thick slice topped a tiny mound of rice.

We had expected more delicate portions, in which the fish-to-rice ratio was in something approaching balance. Restraint is the better part of sushi; your eyes alone can tell you that. Maybe it's the Americanization of sushi, but in the world of raw fish, more (way more) isn't necessarily better.

We mixed soy sauce and wasabi from the leaf-shaped mounds on each tray (I really dislike being served from a big tray--too many institutional associations) and sampled our huge cache of rice and fish. The impeccable tekka maki, bursting with ahi wrapped tight in a band of delicious nori, really hit the spot. The Westside roll was nice, but the quantity of rice inundated the two tunas. I liked the crunchy macadamia nuts and ripe avocado in the Hawaiian roll, but Jack complained that the glaze on the unagi was extremely sweet. In between the tongue-sized slabs of nigiri sushi on Jack's dinner plate, a row of rice-intensive California rolls offered their tame but tasty charms. We finished up with a bowl of ginger ice cream ($2) that tasted exactly like green tea ice cream.

To me, mega-servings contradict the sushi concept. But then, as some readers love to point out, I could be wrong.
---
Shogun Japanese Restaurant
Address: 1123 Pacific Ave., SC
Phone: 831.469.4477
Hours: Mon.-Wed. 5-9pm, Thu.-Fri. 5-10pm, Sat. 3-10pm, lunch Mon.-Fri. noon-2:30pm
Service: *1/2 A few kinks need ironing in this new operation, where doting servers get you started quickly but abandon you toward the end.
Ambiance: ** 1/2 Sleek lines, good-looking artwork and spacious seating make for an attractive dining setting.
Cuisine: ** Exceptionally fresh ingredients rule, though oversize portions threaten to drown the experience.
Overall: Fresh sushi with attitude helps the downtown look better and better.
---
[ Santa Cruz | MetroActive Central | Archives ]