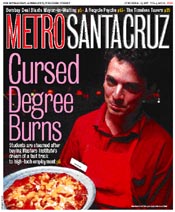 For the Week of
Oct. 16-22
Cover:
Cursed Degree Burns
Students are steamed after buying Masters Institute's dream of a fast track to high-tech employment.



Recycle Psyche: Artist Victoria Kerr gives a second chance to the aliens, flying pigs and rhinos she finds in her garbage can.
Night Howl: Telling stories with music, plus testosterone-infused stage antics.



Power Flower: A fisherman's paradise blooms with decadence in Lilies.



Monk He Shines: T.S. Monk pays tribute to his legendary father Thelonious, with Monk on Monk.
Notes From the Underground: Persistent local bands have a number of new releases.



100 Years and Counting: Duarte's Tavern is a delicious living legend.