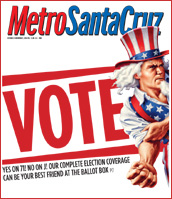 For the Week of
October 27-November 3, 2004
Cover: Vote:
Yes on 71! No on J! Our complete election coverage can be your best friend at the ballot box.
50 Reasons to Vote For John Kerry: With all the bad juju in this election, we challenged our frequent and admittedly snarky contributor to keep it positive--and to be serious for once. Of course, he failed miserably, just like we hoped. Here are the results of his carefully numerated attempts to go beyond 'anybody but Bush.'
Taking the Initiative: A Metro Santa Cruz Guide to Voting the Propositions.



Rev: Scary Data: Withered, distorted testing methods--don't look at them for too long or they'll really scare you!.



London Calling: Despite the odds, Mike Leigh's 'Vera Drake' wars quietly against injustice by doing good.



Punk Burlesque: Two great radical traditions meet on Suicide Girls website and tour.
The Rock Show: 2 Live Crew; Robert Moog.



Stockton Bridge Grille 2.0: The Esplanade fixture returns with a revamped look and a new international menu.



Please don't forget to write! Metro Santa Cruz welcomes letters. Like any great work of art, they should be originals -- not copies of letters sent elsewhere. Include address and daytime phone (for verification purposes only). Letters may be edited for length and clarity or to correct factual inaccuracies known to us. Postal: Metro Santa Cruz Letters, 115 Cooper St., Santa Cruz, CA 95060. Fax: 831/457-5828. Email: . Emailers, please include name, city of residence and phone number. Letters printed will list email address unless otherwise specified. Letters to the editor are not currently published in the online version of this paper.
Copyright © Metro Publishing Inc. Maintained by Boulevards New Media.