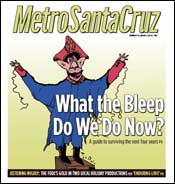 For the Week of
November 17-24, 2004
Cover Story: What the Bleep Do We Do Now?:
A guide to surviving the next four years.
Nüz: Not even Santa Cruz is safe from anti-abortion rhetoric.



Rev: The Big Con: My whiskey bottle had been drained the night before, and I had a headache the size of an iceberg, pre-global warming.



Baloonatic: 'Enduring Love' is an impatience-provoking film essay on the laws of attraction.



The Rock Show: George Clinton and the P-Funk All-Stars; the reopened Attic; Club Caution.



Viva La Resistance Diet: Help this country get rid of the ugliness clogging the White House by wisely choosing what you eat.



Jestering Wildly: Now more than ever--and especially in this year's local holiday productions--the fool reigns supreme.
Copyright © Metro Publishing Inc. Maintained by Boulevards New Media.