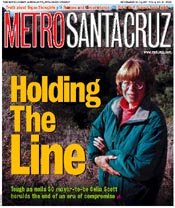 For the Week of
Nov. 20-26
Cover: Holding the Line
Tough as nails SC mayor-to-be Celia Scott heralds the end of an era of compromise.
News: Bombay Doors
Fresno developer has eyes on open space prize.



Presents of Mind: MetroActive's annual holiday guide cuts to the heart of the season of giving. Plus, clutter-free gifts.



Night Howl: Power guitar with an angelically acoustic twist makes its way from New Mexico to SC.



Fine-Feathered Friends: Following the high-kicking, stiletto-shod footsteps of a plumed Las Vegas showgirl to her new gig as a Santa Cruz County dance instructor.



Portrait of the Author: The Wings of the Dove and Washington Square try to capture on screen the elusive privileged moments of novelist Henry James.
Talking Pictures: Mystery writer Walter Mosely visits Eve's Bayou and examines childhood and forgiveness.
Post-Op Punk : A sex change bewilders an aging punker in Different for Girls.



Pampas and Circumstance: South American accents continue to inflect the cooking at Costa Brava, where bold flavors meet attractive ambiance.