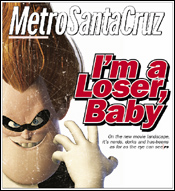 For the Week of
December 1-8, 2004
Cover Story: I'm a Loser, Baby:
On the new movie landscape, it's nerds, dorks and has-beens as far as the eye can see.
Nüz: The Umbrella Man gives new meaning to "walking the walk" on Pacific Avenue.



Rev: New Automotive Dictionary: I got to suckle at the thesaurus, discovering new words that would make me sound smart.



Trent's Last Case: 'The Machinist' is more fun than a movie about starvation and sleeplessness has any right to be.



Blue Lady Down: Local favorites in Blue Lady Quintet embrace a hip, eclectic approach to bluegrass while reclaiming the spirit that once gave country music its cred.
The Rock Show: Linda Kimball and Pete Coates celebrate four years of music, art and culture at the Cayuga Vault.



Noir Holiday: There's a place called France where they don't celebrate Thanksgiving. But what they do celebrate at this time every year should make American wine lovers take notice.



Sweet 'Pea': Ted the Bear is yet another memorable animal act for SSC's holiday tradition in enchanting 'Princess.'



Please don't forget to write! Metro Santa Cruz welcomes letters. Like any great work of art, they should be originals -- not copies of letters sent elsewhere. Include address and daytime phone (for verification purposes only). Letters may be edited for length and clarity or to correct factual inaccuracies known to us. Postal: Metro Santa Cruz Letters, 115 Cooper St., Santa Cruz, CA 95060. Fax: 831/457-5828. Email: . Emailers, please include name, city of residence and phone number. Letters printed will list email address unless otherwise specified. Letters to the editor are not currently published in the online version of this paper.
Copyright © Metro Publishing Inc. Maintained by Boulevards New Media.