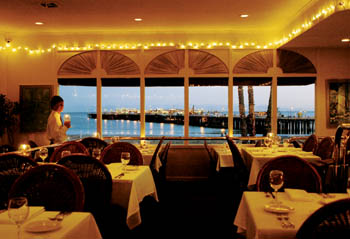 Photograph by Stephen Laufer

As Time Goes By: With its stunning views and air of romance, Casablanca is a longtime Santa Cruz favorite.

Inside the White House

Casablanca Restaurant has held sway over the main Santa Cruz Beach for several decades, much to the delight of romantic food lovers

By Christina Waters

What restaurateur wouldn't want a crystal ball with which to forecast future trends? Any smart dining room hopes its fine-tuning will be in synch with the economic climate and the whims of the dining public. But clairvoyance notwithstanding, it makes sense to keep an eye on the cultural climate and adjust menus accordingly. Casablanca has done just that, and its most recent culinary agenda manages to aim squarely at the middle and offer a bouquet of very moderately priced entrees.

Warm and inviting, with enough elegance to make you happy that you've dressed up a little, yet not enough to curb enjoyment, Casablanca offered a full dancecard of white linen, glowing candlelight and what has always been my favorite tableside view of the bay. Too bad there were so many empty tables on a Thursday evening.

Jack ordered a festive flute of Gruet NV Blanc de Blanc, from New Mexico ($6), and settled in on the warm country-style bread that helped take the chill off the rainy night. As my glass of plummy pinot noir from Laetitia 2000 ($29/split) opened, I considered some options.

The current Casablanca menu has chosen to avoid complexity in favor of sure-fire recipes that aim at the broadest range of tastes. Fewer fresh seafood dishes and a few more pastas than I recalled are now available, along with a sprinkling of steaks, rack of lamb, chicken and portobello mushroom specialties. Happy to find a half-order of pasta--all too rare these days--I decided to begin with the house truffled pâté ($12.95) and then follow it with prawn scampi over capellini ($13.50).

Jack began, predictably, with a cocktail of enormous, very succulent prawns, dangling saucily over a crimson tide of apparently horseradish-free cocktail sauce ($12.95). While the appetizers seem pricey--portions are quite generous--the entrees, including Jack's order of spicy beef kebab ($16.95) are on the whole quite reasonable. Service was right on throughout our dinner, starting with a lavish arrangement of toasted baguette slices and creamy triangles of pâté, all surrounded by tiny bowls bearing piquant condiments. A little hot mustard and chopped capers added to a "truffled" baguette, a sip of velvety Pinot--bliss. Jack's favorite pâté partners were the microminced red onions and slices of tart cornichon. Actually, this wonderful starter could easily be a destination light dinner after a movie, all by itself. OK, with a glass of that robust bubbly.

Entrees proved alternately delicious and unexpected. Jack's marinated and grilled beef cubes were indeed spicy, rather daringly so for this otherwise straight-arrow menu, and were served with delicious rice pilaf and strangely uninspired grated carrots laced with black sesame seeds. The carrots wanted to appear pickled, but didn't quite make it.

My half order of capellini arrived swimming in a pleasant, if nontraditional broth of garlic and wine, along with a quartet of large, moist prawns. I would have been happier with this variation on shrimp scampi, however, had I been asked whether I wanted it smothered in grated parmesan and dotted with feta cheese. My taste buds have never been big on cheese and seafood combinations.

Casablanca takes back seat to no one in the after-dinner coffee department. We lingered happily over perfect cups of decaf espresso, the right intense foil for a shared wedge of gossamer, barely sweetened, ultracreamy pumpkin cheesecake ($5.95). Most of the other house desserts err on the side of lots of chocolate, but this very grown-up pastry was elevated by its splendid, nut-laced crust, and a huge dollop of thick, nonsweetened whipped cream. Never a big dessert man, Jack was impressed enough to consume way more than his share. Given the season, I didn't mind sharing one bit. A note to Santa Cruzans: this beautiful, landmark dining room deserves more patronage this time of year. Now that our annual summer visitors have returned the beach to us, the views have never been better.
---
Casablanca Restaurant
Address: 101 Main St., Santa Cruz
Phone: 831.426.90633
Hours: Dinner nightly from 5pm
Ambience: ***1/2 As romantic and pampering as ever
Service: *** Warm and well-trained
Cuisine: **1/2 Some hits, some not so
Overall: Still the prettiest room on the waterfront, Casablanca offers nonthreatening California culinary standards.
---
[ Santa Cruz | Metroactive Central | Archives ]