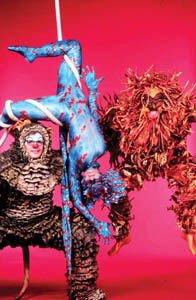 Photograph by Brooke Gelber

Turning a Classic Upside Down: Tandy Beal's newest version of 'The Nutcracker' made you want to run away and join the circus.

Not Necessarily the Nut

Tandy Beal's spirited 'New Nut!' turns out to be more new than nut

By Scott MacClelland

Cracked open, Tandy Beal's The New Nut! isn't about Christmas at all. Its promise of "a new interpretation of the Tchaikovsky favorite" appeared only in the form of sophisticated, hard-to-recognize vocal arrangements of dances from the second act, with none of the original narrative. So if The New Nut! was not significantly about The Nutcracker, what then?

Try the circus! When Tandy Beal "ran away" to join the Pickle Family Circus, she got hooked. That bawdy adventure added a new dimension--actually an old dimension--to her sparkling creativity. "Modern" dance, after all, has its roots in classical ballet, and that, in turn--no less than athletic endurance contests and exhibitions of derring-do like Formula 1 car racing and jumping motorcycles across the Grand Canyon--is rooted in the circus.

But the biggest innovation of this wild new ride is SoVoSo, the jazz-flavored vocal quintet who supplied all the music for The New Nut. Strong on style, the five singers, each a soloist at one point or another, dominated most of the first half of the matinee with original songs and arrangements that included "O Holy Night" and "Down by the Riverside." For the longer second half, they led the Nutcracker parade in arrangements that imitated the Tchaikovsky dances but, for lack of the original orchestral colors, deflected nearly all attention to the dancers, jugglers, acrobats, gymnasts and skaters. Even so, with only voices the quintet came up with amazing effects of rhythm and timbre.

Following a long SoVoSo song about love, fathers, mothers, sisters and brothers, Act 1 began with dancer Saki as a rag doll toyed with by partners Fabricio Olssen and Dennis Nagtalon. The ultralimber Saki twisted and contorted into impossible moves and shapes, a big grin always shining from her face. Rock Lerum made his first entrance riding a bicycle, actually two unicycles, one a prop with handle bars, which he was pleased to ride to the very edge of the stage, always a gasp-inducer. Out of the saddle, he entered the audience and returned with Sofia, about 4 years old, propped her on his shoulders, and took several more turns around the stage on his unicycle. Sofia appeared to be used to the routine. Svetlana Gololobova put on an acrobatic display of hand balancing and juggling balls while standing on her head. (What will those Russians think of next?) Tandy herself danced an improvisation with two men from SoVoSo.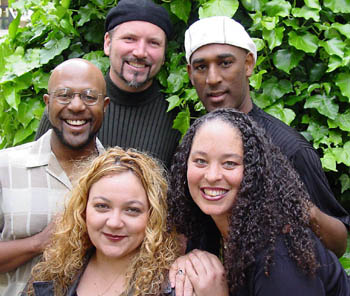 Photograph by Brooke Gelber
SoVoSo Say We: The jazz-flovored vocal quintet supplied all the music for 'The New Nut!'
A zany film of SoVoSo trying to find the Mello opened Act 2, followed by Animal Crackers, featuring the spectacular costumes Beaver Bauer designed for the Russian Circus. Before a Japanese-style set by Norvid Ross, bears, lizards, a Big Bird knockoff and other exotic fauna paraded in vividly colored, richly textured fur, feathers and scales, while ring-master-in-tux Saki worked the menagerie with a large hoop. Competition roller skaters Meghan Burt and Edrick Stewart "danced," Lerum, Tim Furst and Iman Lizarazu juggled pins and rings, and a troupe of Mexican dancers made the Spanish Dance their own. There was hip-hop, gymnastics by children from the Watsonville Charter School for the Arts, a bravura acrobatic display by Svetlana Gololodova and two bolts of fabric suspended from the fly, a traditional-style ballroom scene for the Waltz of the Flowers, Tandy appearing as the Sugar Plum Fairy with six attendants and an elegant duo by Jessica and Dennis Nagtalon before a boisterous full-cast finale.
For all its energy and sheer entertainment, The New Nut! doesn't make much room for that startling originality found in Beal's more circumspect work. Neither is it laced with her signature whimsy. These qualities may have been inhibited by the congestion of styles on display, and certainly by her use of other choreographers and the character and pace of SoVoSo's vocal stylings. To a slight degree, the riotous performance on Sunday afternoon also suffered from a lack of technical polish among some of the acts.
But then, this New Nut represents Beal's restless creativity, her need to explore new paths and take new risks. Moreover, the show leans more heavily on community participation than her solo and small ensemble efforts. At last, all of us at the Mello were cheeringly glad to run away with Tandy and join the circus.
[ Santa Cruz | Metroactive Central | Archives ]