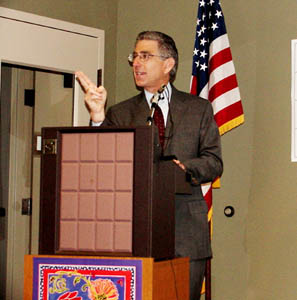 Photograph by Sarah Phelan

Giving Arnie the Finger: Or fingers, as the case may be. Still, Phil Angelides' point was clear when he was in Santa Cruz on Monday.

Nüz

What ADU Really Stands For

Nuz would like to remind all you Cruzer renters squashed into "adorable, rustic" toolsheds and "fixer-upper" outhouses that an ADU is neither an arcane contraceptive device nor a desperately scribbled promissory note but an Accessory Dwelling Unit, a.k.a. granny unit in renter's parlance, which hopefully means more affordable units for such dwellers in the future.

Still, those who witnessed state Treasurer Phil Angelides join local elected officials at the Santa Cruz Community Credit Union earlier this week could be forgiven for thinking that ADU stands for Arnie Demolition Unit, since the state treasurer frequently criticized Arnie's $15 billion deficit borrowing plan, which was recently defeated in the Legislature, even as he celebrated a $350K grant to the city and unveiled a new granny unit "how-to" manual, which he touted as a community-sustaining "antidote to sprawl."

Angelides did tell Nüz that he "may well run for governor in 2006," but he insisted that the primary reason he was in the Cruz was to promote a balanced budget and oppose cuts to California's higher education system. Such proposals, he said, would saddle California with debt for 30 years, mortgage our children's future and weaken California.

"Our state needs to be able to compete in the 21st century, not as the cheapest place to do business but as the place which produces the best-trained and globally competitive work force," Angelides said, as he was whisked off in a very official black car to address UCSC students, who are none too happy with Arnie's $3.8 billion in budget cuts, which include higher education.

Angelides was joined at the Santa Cruz Community Credit Union by CEO Ginger McNally, Assemblyman John Laird (D-Santa Cruz); newly elected Santa Cruz Mayor Scott "Lucky" Kennedy, who recently told Nüz that the Eastern-access issue (see Nüz, Dec. 3) is, to his mind, "deader than a doornail"; former Mayor Emily Reilly; and Councilmembers Tim Fitzmaurice, Cynthia Mathews and Mark Primack.

An architect by profession, Primack donated time and plans to the project pro bono, which may explain why our city was one of only 14 projects to make the grade out of 117 applications.

Either way, Primack looked way more comfy explaining ADU floor plans than he did last Friday night when he was trying to explain to Nüz what he was doing on the dance floor of the city-suing Blue Lagoon on what, by happy coincidence, turned out to be Law Enforcement Night.

Nüz had never heard of such a night before, but we did notice a gang of police officers patrolling their way from the newly opened Urban Outfitters to stake out a perimeter outside Borders on what was the busiest pre-holiday Friday night so far, with lines wrapped around the block at downtown theaters and scads of people walking around looking for bars and stores to throw $20 bills at.

What caught Nüz's attention about the cops was the hodgepodge of enforcement agencies represented by the uniforms: city of Santa Cruz, state of California Alcoholic Beverage Control, city of Watsonville, not to mention what appeared to be enforcement groupies sporting spiffy windbreakers with ice-breaking, downtown-friendly logos like "Parole" and "Probation."

One officer of the team, a local who only identified himself as "Jeff," informed Nüz that Enforcement Night is a regular event, in which law enforcement officials engage in a coordinated effort to "show a presence, check things out and make sure everything's OK."

Which is one reason why we later came to drop by the Blue Lagoon, to which a federal court jury recently awarded $113,000 in damages, three years after the nightclub first sued the city for police harassment, in a suit in which the city spent nearly half a million dollars defending itself.

On this particular evening, staffers at the Blue had no problem with the ABC doing its job by making the rounds to ensure local purveyors of spirits were up to snuff with state standards, including bug-free bottles and tax stamps all in order.

As for Primack, who was escorted on what he claims was his first visit to the Blue by a Cabrillo College Greek-dance instructor, he said, "We finally ended litigation with this place, so I wanted to drop in and see what the business is all about."

With both sides of the litigation standing down for now, Nüz interprets Primack's visit as a season-of-good-cheer overture to bury the hatchet and get on with the business of making money from our prolific downtown night life. Either way, we know he wasn't there for the dancing, because as the man who wouldn't be vice mayor told everyone when the dance lights came on, "I have inhibitions of steel."

Who You Gonna Call?

"Where have all our freedoms gone? Stolen by the PATRIOT Act!"

That's what anti-PATRIOT Act folks plan to sing at a rally, march and benefit concert for the Bill of Rights, on Sunday, Dec. 14, which is the eve of the day the legislation was ratified in 1791.

In the 212 ensuing years, a lot of things have changed, but the assault on our freedoms has escalated since Sept. 11, 2001, says Santa Cruz Bill of Rights Defense Committee member Jared Jacobs.

"How do you find out what your rights are when the people who know what they are won't tell you, and when people who know you're under investigation can't tell you that you are under investigation?" asks Jacobs.

The ACLU has brought a lawsuit against Attorney General John Ashcroft and FBI Director Robert Mueller, arguing that Section 215 of the PATRIOT Act--which gives the FBI to access "tangible things," including books, documents and personal diaries, and doesn't require investigators to show probable cause--is unconstitutional.

What's particularly disturbing about all this, says Jacobs, is that if found guilty on the basis of Section 215 investigations, a person can be named a domestic terrorist, "which is the logical equivalent to being put in a 15th-century dungeon, since you won't be charged with anything, you won't be allowed to talk to an attorney and you won't be given a trial date."

And with a confidential FBI internal memo that was recently leaked to The New York Times revealing FBI advocates spying on peaceful protesters, Jacobs admits that "every time someone joins our group, we can't help wondering who they really are."

The Bill of Rights benefit begins at 1pm, Dec. 14, with a rally at the Town Clock, followed by a march at 2pm to Motion Pacific, 408 Front St., Santa Cruz, 3-6pm. The event features Love Eternal, Vicious Cycle, Amy Obinski and ACLU speaker Ray Gruenich.
---
Nüz just loves juicy tips: Drop a line to 115 Cooper St, Santa Cruz, 95060, email us at , or call our hotline at 457.9000, ext 214.
---
[ Santa Cruz | Metroactive Central | Archives ]