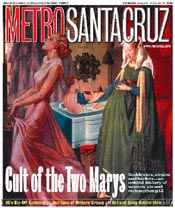 For the Week of
Dec. 18-24
Cover:
Cult of the Two Marys
Goddesses, virgins and harlots--an unkind history of women, sin and redemption.
News: Rip-Off Economy
Local service workers have set up an informal, unsanctioned barter system, but it's not about the stuff--they're after justice.



Presents of Mind: MetroActive's annual holiday guide cuts to the heart of the season of giving. Plus, clutter-free gifts.



Notes From the Underground: Local shows are canceled, moved and forgotten.



Hot and Spicy Golden Oldie: China Szechwan has charmed Santa Cruz for many moons.



Bad Case of Writer's Cramp: A writers' conspiracy and the tidepool torture of a thousand touches.