02.10.10
home | the papers | metro santa cruz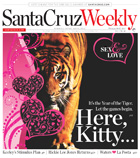 The Sex & Love Issue
Year of the Tiger | Tips from Tigers | Cheetah Hangout | The Rub Club
Bullhorn
The director of the Beach Flats Community Center is reading lots of books. How many books? Read on.

Santa Cruz County Thinks Local
County Treasurer Fred Keeley is betting on banks to do the right thing when goes to them with a local stimulus deal in hand.
News Briefs
A roundup of news stories from SantaCruz.com.
The Bullhorn
Sami Abed, Sallye Steiner Boyer and Scott Kennedy of the Santa Cruz chapter of the Palestine-Israel Action Committee make a case for a true Museum of Tolerance.

Fade to Black
'The White Ribbon' is a gorgeous cinematic riddle on the theme of repression.

MORE MOVIE REVIEWS

SANTA CRUZ COUNTY MOVIE TIMES

Music Calendar Picks
Justin Townes Earle, Stephen Stills, the Mermen, the Dirty Dozen Brass Band and the Entrance Band all crowd their way into Santa Cruz this week, giving music lovers throughout the land fluttery Valentine's Week heart palpitations.
Keeping Up With Jones
Rickie Lee Jones comes to Santa Cruz for a Valentine's Day lovefest.

MORE MUSIC AND NIGHTLIFE

MUSIC AND CLUBS LISTINGS

La Nuova Posta
Chef Katherine Stern lights up the culinary landscape with authentic Italian accents.

BOOK A RESTAURANT RESERVATION

FIND A RESTAURANT REVIEW


Letters to the Editor
February 10 - 17, 2010