02.24.10
home | the papers | metro santa cruz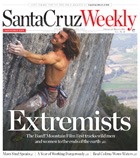 Extremists
The Banff Mountain Film Festival explodes into Santa Cruz with a dozen white-knuckle films about high-octane sports. Plus, British cyclist and adventurer Dominic Gill on falling in love with Latin America during the making of his remarkable film, Take A Seat.
Ten Questions for Shane Desmond
The big-wave surfer who nabbed second place at Mavericks talks about family, clean beaches and how he stays in good enough shape to paddle through 40-foot monsters.
The Creature from the Backyard Lagoon
Writer Jessica Lussenhop's moment of sweet communion with nature turns sour.

Who Will Replace Santa Cruz City Manager Dick Wilson?
Filling the 28-year veteran's wingtips won't be easy.
The Bullhorn
Cut Israel a Break

Short and Sweet
This year's Oscar-nominated short films, both animated and live-action, outstrip most full-length features.

MORE MOVIE REVIEWS

SANTA CRUZ COUNTY MOVIE TIMES

Music Calendar Picks
Indie darling Scout Niblett, Grateful Dead drummer Bill Kreutzmann and country punks Antsy McClain and the Trailer Park Troubadours make their way to Surf City.

MORE MUSIC AND NIGHTLIFE

MUSIC AND CLUBS LISTINGS

The Real Deal
Watsonville's Real Colima offers seductive Mexican cuisine.

BOOK A RESTAURANT RESERVATION

FIND A RESTAURANT REVIEW

Les Invisibles
A new book inspired by the Watsonville strawberry fields explores America's unacknowledged work force.

Letters to the Editor
February 24 - March 3, 2010