04.21.10
home | the papers | metro santa cruz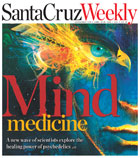 Mind Medicine
With the help of Santa Cruz-based MAPS, scientists are once again studying psychedelics—this time for clues on how they might help cure mental illness.

Santa Cruz Cliffhanger
Neighbors watch their property erode while the city dithers over long- versus short-term fixes
The Bullhorn
Tallying the cost of the war in Afghanistan leaves us numb and number.

Low Rides, High Ideals
A father learns to accept his son in 'La Mission'

MORE MOVIE REVIEWS

SANTA CRUZ COUNTY MOVIE TIMES

Music Calendar
Bluegrass hotshots Trampled by Turtles and indie darlings Deer Tick drop in on Santa Cruz, while '80s icons the English Beat play Felton and Devil Makes Three comes home for a two-night engagement.

MORE MUSIC AND NIGHTLIFE

MUSIC AND CLUBS LISTINGS

Bonny Doon Bounty
A tour of Beauregard Vineyards' bodaciously productive estate

BOOK A RESTAURANT RESERVATION

FIND A RESTAURANT REVIEW

One Man Grand
Pat Metheny's robot-jazz 'Orchestrion' project comes to Santa Cruz.

Letters to the Editor
April 21 - 28, 2010