03.31.10
home | the papers | metro santa cruz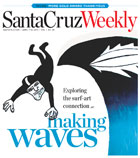 The 2010 Gold Awards
Readers voted, we're reporting. Santa Cruz's best food & drink, art & culture, music & nightlife, shopping & services, health, sports & rec, community life and technology & innovation. Plus the inside word on what makes Santa Cruz from staff scribes in Writers Picks.
Ten Questions for Philippe Kahn
The Santa Cruz-based inventor of the phone camera tells us all about it.
Streetsigns
Former Metro Santa Cruz editor Tai Moses sends a dispatch from her blog, Aerophant.

Santa Cruz Pot Clubs May Have to Open Their Books
City councilmembers draft law requiring medical marijuana dispensaries to prove they're nonprofits.
The Bullhorn
A director with the American Chemistry Council argues that plastic bags aren't the problem.

Girl Talk
Womankind gets its revenge in 'The Girl With the Dragon Tattoo.'

MORE MOVIE REVIEWS

SANTA CRUZ COUNTY MOVIE TIMES

Music Calendar
Reel Big Fish, Yonder Mountain String Band and Los Straitjackets make tracks for Santa Cruz stages this week.

MORE MUSIC AND NIGHTLIFE

MUSIC AND CLUBS LISTINGS


BOOK A RESTAURANT RESERVATION

FIND A RESTAURANT REVIEW


Letters to the Editor
March 31 - April 7, 2010