03.10.10
home | the papers | metro santa cruz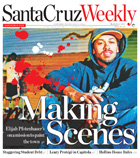 Making Scenes in Santa Cruz
Elijah Pfotenhauer is on a mission to paint the town.

After the March
On the other side of graduation, students face mounting debt and few jobs. Curtis Cartier reports from the March 4 protests.
The Bullhorn
The Friends of Arana Gulch speak up about their opposition to a bike path through the greenbelt.

New England Noir
Roman Polanski's past genius haunts his latest thriller.

MORE MOVIE REVIEWS

SANTA CRUZ COUNTY MOVIE TIMES

Music Calendar Picks
New Orleans brass funk phenom Trombone Shorty, guitar wiz John Scofield, shredder Joe Bonamassa and local yokels Sourgrass sidle up to Santa Cruz microphones this week.

MORE MUSIC AND NIGHTLIFE

MUSIC AND CLUBS LISTINGS

House Special
Comfort food classics take an upscale turn at Hollins House.

BOOK A RESTAURANT RESERVATION

FIND A RESTAURANT REVIEW

Brain Gain
A student of Timothy Leary and Robert Anton Wilson issues a guidebook on deepening one's intelligence

Letters to the Editor
March 10 - 17, 2010