03.03.10
home | the papers | metro santa cruz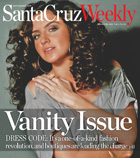 The Vanity Issue: Dress Code
It's a one-of-a-kind fashion revolution, and boutiques are leading the charge. In our annual fashion and beauty issue, photographer Dina Scoppettone shoots spring fashions, Twist makes a splash with designer consignment handbags and Santa Cruz-based Synergy Clothing finally opens a hometown storefront.
Ten Questions for Marina Sousa
The firecracker behind Just Cake in Capitola and the winner of Oprah's Cake-Off tells us a few things we didn't know—and lets us in on a bizarre little irony.

The Long And Winding Path
On March 11, after 15 years of lawsuits, the Arana Gulch bike path could finally become a reality.
The Bullhorn
Micah Posner, executive director of bike advocacy group People Power, says a path through Arana Gulch would do more than connect the east and west sides of Santa Cruz. It would help connect people to nature.


MORE MOVIE REVIEWS

SANTA CRUZ COUNTY MOVIE TIMES

Music Calendar Picks
Mark Levin and the Latin Tinge, SambaDa, Allen Toussaint and Santa Cruz indie darlings Sleepy Sun play the home stages.

MORE MUSIC AND NIGHTLIFE

MUSIC AND CLUBS LISTINGS

The Other Red Grape
Ripe, supple, and loaded with inky spice, syrah just gets better and better.

BOOK A RESTAURANT RESERVATION

FIND A RESTAURANT REVIEW

Not By The Book
A bold exhibit at UCSC's Sesnon Gallery asks the question: what if books contained no words, just ideas?

Letters to the Editor
March 3 - 10, 2010