03.17.10
home | the papers | metro santa cruz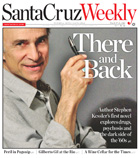 Sex, Drugs & Psychosis
In a heavily autobiographical first novel set partly in late-1960s Santa Cruz, author Stephen Kessler explores the excesses of an era.
Ten Questions for Judi Oyama
The four-time world champion slalom skateboarder, who is in her 50s and still skating, muses on life, work and other interesting things.
Streetsigns
The best of "Overheard at the Record Store," the quirky feature on the blog of music nerd and writer Cat Johnson.

Pogonip Rangers Weigh Dangers
With armed drug dealers having literally set up camp in the Pogonip, the virtually unarmed rangers who patrol the park have taken to avoiding certain areas.
The Bullhorn
Emily Glanville, program director at Save Our Shores, argues for a stiff plastic bag ban for Santa Cruz.


MORE MOVIE REVIEWS

SANTA CRUZ COUNTY MOVIE TIMES

Music Calendar Picks
San Jose-based art pop phenon Xiu Xiu plays the Crepe Place, Malian ngoni star Bassekou Kouyate explodes onto the Rio stage, the Jug Band Jamboree takes over Don Quixote's and sax man Joe Lovano brings an all-star band to Kuumbwa.

MORE MUSIC AND NIGHTLIFE

MUSIC AND CLUBS LISTINGS

Recession Wine Cellar
Christina Waters offers a peek into her wine trove.

BOOK A RESTAURANT RESERVATION

FIND A RESTAURANT REVIEW

Gilberto Gil, Renaissance Man
From Brazilian pop stardom to public service and back again, Gilberto Gil never stops moving forward. He plays the Rio on Thursday, March 18.

Letters to the Editor
March 17 - 24, 2010