03.24.10
home | the papers | metro santa cruz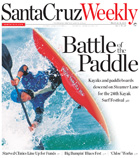 Santa Cruz and the Battle of the Paddle
Kayak surfers and stand-up paddleboarders converge on Steamer Lane this weekend for the 24th annual Kayak Surf Festival.
Ten Questions for Cynthia Sandberg
The owner of Love Apple Farm in Ben Lomond—the kitchen farm of the two-star Michelin restaurant Manresa—tells us a few things about herself.
Streetsigns: Wild Irises
A glimpse of wildflowers in bloom prompts a recollection.

Safety First
With the health care bill finally passed, Santa Cruz County's overstretched safety net clinics line up for relief.
The Bullhorn: I Like Tigers and I Vote
With the Santa Cruz council poised to consider allowing dogs downtown for the first time in 30 years, author Stephen Kessler argues for other charismatic megafauna too.

'Chloe' Time
Love turns sideways in Atom Egoyan's drama about an aging couple, desire and duplicity.

MORE MOVIE REVIEWS

SANTA CRUZ COUNTY MOVIE TIMES

Music Calendar Picks
Latin drumming phenom Antonio Sanchez, folkie femme Michelle Shocked and Hank III come to Santa Cruz this week, plus a whole lot more.
Ben Harper and Buddy Guy at Santa Cruz Blues Fest
The 18th annual Memorial Day party invites a popular newcomer and a venerated old-timer.
Santa Cruz Jazz in the Key of Aloha
Grammy winner Ken Emerson brings the spirit of the islands to the Santa Cruz Jazz Festival.

MORE MUSIC AND NIGHTLIFE

MUSIC AND CLUBS LISTINGS

The Engfer Experience
Pizza for the people, served hot and delicious in a boisterously blue-collar setting.

BOOK A RESTAURANT RESERVATION

FIND A RESTAURANT REVIEW


Letters to the Editor
March 24 - 31, 2010