04.28.10
home | the papers | metro santa cruz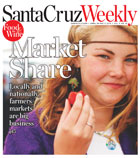 Market Expansion
For our Food & Wine issue, we look at the expanding downtown farmers market and growing popularity of markets across the country. Plus, a look at new vendors and a killer combination: wine and the farmers market.

America's Kids
America's Kids

Shadow Dance
Full of Irish brooding and spirits, 'The Eclipse' lays bare the texture of grief.
Animal House
Cheesey romcom gags and maintenance-free kids and critters in 'The Back-Up Plan.'

MORE MOVIE REVIEWS

SANTA CRUZ COUNTY MOVIE TIMES

Music Calendar
Santa Cruz's own rockabilly heroes the Chop Tops throw a record release party, art noise band Growing comes to Brookdale Lodge and jazz bass phenom Christian McBride uncorks on Kuumbwa.

MORE MUSIC AND NIGHTLIFE

MUSIC AND CLUBS LISTINGS


BOOK A RESTAURANT RESERVATION

FIND A RESTAURANT REVIEW

Dawes and the Song of the South
With its new release 'North Hills,' indie folk act Dawes takes a page from the Laurel Canyon playbook.

Letters to the Editor
April 28 - May 5, 2010