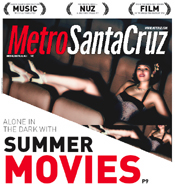 For the Week of
June 11-18, 2003
Cover: Alone in the Dark With Summer Movies
Metro Santa Cruz knows what you did last summer--this time around, catch the good flicks with our handy guide.
Nüz: Boy, (Are We) Wonder(ing)?



Fly Away: The secret life of birds is revealed in Jacques Perrin's 'Winged Migration.'



The Politics of Dancing: Le Tigre to indie scene: Free your ass and your mind will follow.
Swing Shift: It's always a beautifully cool day in Dave Brubeck's neighborhood of pioneering jazz sounds.
The Rock Show: Computers Win!



Beach Blanket Bonanza: The good, the fresh and the organic all get together in delicious ways at Blacks Beach, a quintessential beach colony cafe.