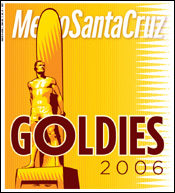 For the Week of
March 29-April 5, 2006
Cover Story: The Goldies 2006:
Once again, you picked the best of Santa Cruz to be honored with the one and only Goldies Award for 2005. Nice work!
A Natural Progression?: Chris Krohn may have lost his beard, but his politics remain the same as he throws his hat into the District 3 county supe's ring.
Nüz: No Free Lunches.



Rev: Virtue: He thinks a gas tax would make the Saudis angry because we're asking for more oil but increasing the price to lower demand.



Cosmic Trigger: Range shooting comes to a downtown art gallery.



The New Insincerity: 'Thank You for Smoking' is sharp and funny--but why does no one want to admit it's politically correct?



No Sleep Till Austin: At SXSW conference, the key to longevity in the music business is to do what you love and love what you do.
Müz: Coming Attractions.
Critic's Picks: A guide to the week's best music and events.



Cowboy Up!: Buffalo burgers, yam cakes and the obligatory Sloppy Jed win over the greenhorns at Felton's Cowboy Bar and Grill.
Copyright © Metro Publishing Inc. Maintained by Boulevards New Media.