05.05.10
home | the papers | metro santa cruz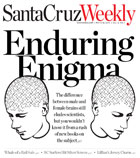 Gender Unbender
New books on the alleged difference between male and female minds are popular, but they're not especially scientific.
Ten Questions for Glenn R. Stewart
The director of the Predatory Bird Research Group at UC-Santa Cruz talks about his love of all things falcon-related and his admiration for Margaret Mead.
Local Poets, Local Inspiration
The May installment of our regular poetry series features poet Doug McClellan's quirky vision of our town in 'Ode to Santa Cruz.'

Santa Cruz Railway Purchase Nearly Final
But what will we do with a set of railroad tracks? For the foreseeable future, not much.
The Bullhorn
A member of the SubRosa anarchist collective weighs in on the May Day violence, which police are saying was planned and carried out by anarchists.

A Westside Story
Santa Cruz filmmaker Josh Pomer tells the story of three famous surf buddies from the ultimate insider's perspective.
Band of Brothers
Jet Li, Andy Lau and Takeshi Kaneshiro fight their way through the Taiping rebellion in 'The Warlords.'

MORE MOVIE REVIEWS

SANTA CRUZ COUNTY MOVIE TIMES

Music Calendar
Indie discovery the Tallest Man on Earth plays the Brookdale Lodge, Red Sparowes hit the Crepe Place and Stanton Moore Trio takes over Moe's Alley this week.

MORE MUSIC AND NIGHTLIFE

MUSIC AND CLUBS LISTINGS

Start Spreading The News
Lillian's Italian Kitchen dishes up East Coast attitude with the Sunday gravy to back it up.

BOOK A RESTAURANT RESERVATION

FIND A RESTAURANT REVIEW


Letters to the Editor
May 5 - 12, 2010