05.12.10
home | the papers | metro santa cruz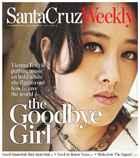 The Goodbye Girl
She left computer science for music, shocking her family. Now jazz phenom Vienna Teng is putting music on hold while she figures out how to save the world. She plays Kuumbwa this Monday.
Ten Questions for Belle Yang
The UCSC grad and Pacific Grove resident talks about frogs, swamps and her forthcoming graphic novel, 'Forget Sorrow.'
Streetsigns
Curtis Cartier chows down with Chowhound, an Aptos-based cooking class that includes a four-course dinner, wine and conviviality to spare.

In Santa Cruz, Anarchists of All Stripes
After last week's rampage through downtown, some wonder: are there good anarchists and bad anarchists?
News Briefs
Lawsuit seeks to delay state senate district 15 race, bike trail underpass to the Tannery opens and the city prepares for Amgen, plus more stories.
The Bullhorn
As controversial author and Israel critic Norm Finkelstein heads to town, activist Scott Kennedy argues that we need his point of view more than ever.

Down Underhanded
It's Aussie noir done right in 'The Square'

MORE MOVIE REVIEWS

SANTA CRUZ COUNTY MOVIE TIMES

Music Calendar
Arizona-based Roger Clyne and the Peacemakers bring desert-style reggae-tinged rowdiness to town, the Sierra Leone Refugee All-Stars electrify Moe's Alley and Lost Weekend takes Don Quixote's back to cowboy roadhouse days.

MORE MUSIC AND NIGHTLIFE

MUSIC AND CLUBS LISTINGS


BOOK A RESTAURANT RESERVATION

FIND A RESTAURANT REVIEW


Letters to the Editor
May 12 - 19, 2010