08.11.10
home | the papers | metro santa cruz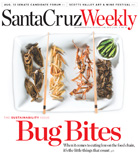 Bug Bites: Sustainable Eating Hits A New Low
Eating lower on the food chain is one of the best things an aspiring greenie can do, but it will require a few attitude adjustments. We explore why in our Sustainability Issue.

Ballot Boxing in California's 15th Senate District
An important election is happening on Aug. 17. Do you know where your polling places are?
Sundown for PACE
An innovative solar finance program goes dark before it even began.


MORE MOVIE REVIEWS

SANTA CRUZ COUNTY MOVIE TIMES

Music Calendar
Straight out of Austin, it's the Mother Truckers this week in Santa Cruz. And let us not forget indie darlings Akron/Family and Wavves, along with blues veterans Lydia Pense & Cold Blood and Malian kora superstar Toumani Diabate.
The Return of Smash Mouth
Steve Harwell of Smash Mouth on why selling out is only cashing in.

MORE MUSIC AND NIGHTLIFE

MUSIC AND CLUBS LISTINGS


BOOK A RESTAURANT RESERVATION

FIND A RESTAURANT REVIEW

Sweet Dissonance
The Cabrillo Festival opened last weelemd with a bang and just a little clang.

Letters to the Editor
August 11 - 18, 2010