07.28.10
home | the papers | metro santa cruz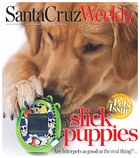 Unconditional Love 2.0
In the showdown between virtual pets and real ones, it's the humans who may stand to lose the most, as Curtis Cartier learns in our 2nd annual Pets Issue.

Downtown Santa Cruz Dogfight
It's a tug-of-war over in Surf City over where dog lovers can take their canine companions.
News Briefs
Republican Assemblymember Sam Blakeslee agrees to appear at a candidate forum with former Democratic Assemblymember John Laird, Independent Jim Fitzgerald and Libertarian Mark Hinkle; also, pension reform talks in Santa Cruz inch forward.

Fools in Love
A fantasy spins out of control in 'Wild Grass'

MORE MOVIE REVIEWS

SANTA CRUZ COUNTY MOVIE TIMES

Music Calendar
Wolf Parade, Eddie Money and Dar Williams on Santa Cruz stages this week.

MORE MUSIC AND NIGHTLIFE

MUSIC AND CLUBS LISTINGS


BOOK A RESTAURANT RESERVATION

FIND A RESTAURANT REVIEW

The Lion in Winter' A Force of Nature
Stellar cast gives a thundering start to Shakespeare Santa Cruz's 29th season
'Cabaret' at Cabrillo Stage
The Bawdy Beautiful Lusty and dazzling, 'Cabaret' launches Cabrillo Stage into another league.

Letters to the Editor
July 28 - August 4, 2010