07.07.10
home | the papers | metro santa cruz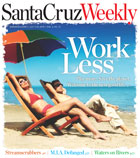 Why Work?
How working less leads to living more: Leilani Clark makes the argument for the 21-hour work week.
Ten Questions
Santa Cruz raconteur and muckraker-about-town Bruce Bratton answers our nosy questions.
Streetsigns
In this month's installment of 'Local Poets, Local Inspiration,' Peggy Heinrich's haikus summon a Santa Cruz summer day.

Central Coast Nixing Nitrates
A proposed rule requiring farmers to monitor runoff for contaminants could put Santa Cruz County in the vanguard of clean water efforts.
The Bullhorn
On the eve of a two-week journey to Israel, Rev. Dave Grishaw-Jones reflects on the need for a healthier dialog on the Mideast.

Oral Gratification
Desperation, courage and a mouth that would make a sailor blush are on full display in 'Joan Rivers: A Piece of Work.'

MORE MOVIE REVIEWS

SANTA CRUZ COUNTY MOVIE TIMES

Music Calendar
Y'allternative queen Rosie Flores, certified reggae legend Sugar Minott and Puerto Rican party band Plena Libre at Santa Cruz venues this week.
Back In Action
M.I.A.'s new record is full of greatness. So why aren't we hearing anything good about it?

MORE MUSIC AND NIGHTLIFE

MUSIC AND CLUBS LISTINGS


BOOK A RESTAURANT RESERVATION

FIND A RESTAURANT REVIEW


Letters to the Editor
July 7 - 14, 2010