06.09.10
home | the papers | metro santa cruz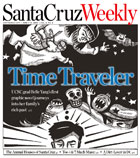 Still Life
Monterey Bay writer and artist Belle Yang explores her family history in the new graphic novel Forget Sorrow.

Santa Cruz's Party Palaces
Who lives in our town's 'loud and unruly' residences?
Mr. Lipson Goes to Washington
A farmer and longtime organic policy researcher heads to the capital.
The Bullhorn
Quit Kvetching And Do Something

The Men's Club
A soccer star comes to life to help a hapless mailman in 'Looking for Eric'

MORE MOVIE REVIEWS

SANTA CRUZ COUNTY MOVIE TIMES

Music Calendar
John Jorgenson, The Subhumans, the Austin Lounge Lizards, Joshua Redman and Bert Jansch with Pegi Young: all this week, all right here
Enjoy the Silence
You're not really going to listen to that full-discography torrent, are you?

MORE MUSIC AND NIGHTLIFE

MUSIC AND CLUBS LISTINGS


BOOK A RESTAURANT RESERVATION

FIND A RESTAURANT REVIEW


Letters to the Editor
June 9 - 15, 2010