05.26.10
home | the papers | metro santa cruz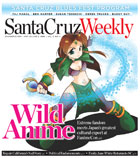 Wild Anime
Extreme fandom meets Japan's greatest cultural export at FanimeCon.

Where's The Revolution?
A short history of Repair California's short-lived promise.
The Bullhorn
Santa Cruz's Yuppie Intifada

A Bronx Tale
City Island is a charming, lightweight indie about family ties and family lies.

MORE MOVIE REVIEWS

SANTA CRUZ COUNTY MOVIE TIMES

Music Calendar
Mountain Animal Hospital, She and Him, Dumpstaphunk and Nokie Edwards on Santa Cruz stages this week.
Santa Cruz Songstress Returns to Town
Up-and-coming indie chanteuse and UCSC grad Emily Jane White stops by her old stomping grounds.

MORE MUSIC AND NIGHTLIFE

MUSIC AND CLUBS LISTINGS

Full Meal Deal at Leo's
The friendly Live Oak taco bar delivers lots for little.

BOOK A RESTAURANT RESERVATION

FIND A RESTAURANT REVIEW


Letters to the Editor
May 26 - June 2, 2010