05.19.10
home | the papers | metro santa cruz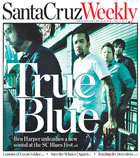 Ben Harper's Blue Side
The indie star's inner bluesman comes out to play at the Santa Cruz Blues Festival this Memorial Day. Also, Buddy Guy, Taj Mahal and other blues greats round out the bill.

Gray Whales Under Fire
As the International Whaling Commission considers lifting a ban on commercial whaling, gray whales see a decline in numbers.
News Briefs
A voice mail message is derailing Watsonville councilman Emilio Martinez' bid for county supe; also, after some "soul-searching," the Pajaro-Sunny Mesa water district backs off a lawsuit against the Pajaro Valley Water Management Agency.
The Bullhorn
Dennis Takahashi-Kelso, who oversaw the Exxon Valdez cleanup in 1989 and now serves as the Santa Cruz-based VP for Ocean Conservancy, makes the case for demanding accountability over the Gulf spill..

Hoodwinked
Bristling with political commentary and unburdened by nuance, Ridley Scott's 'Robin Hood' disappoints.
Royal Flush
A corrupt lobbyist and a worse system are exposed in 'Casino Jack.'

MORE MOVIE REVIEWS

SANTA CRUZ COUNTY MOVIE TIMES

Music Calendar
Chris Pureka, Melvin Seals, John Vanderslice and more plug in at Santa Cruz venues.

MORE MUSIC AND NIGHTLIFE

MUSIC AND CLUBS LISTINGS

On Silver Mountain
The estate that Jerry O'Brien built expands its tasting territory.

BOOK A RESTAURANT RESERVATION

FIND A RESTAURANT REVIEW

Santa Cruz Author Reimagines Holmes' World
Laurie King's latest novel, 'The God of the Hive,' features a medieval literary archetype along with the headstrong sleuth Mary Russell and her partner Sherlock Holmes.

Letters to the Editor
May 19 - 26, 2010