06.02.10
home | the papers | metro santa cruz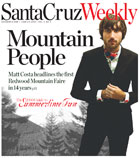 The Fairest Of Them All
After 14 years of slumber, the Redwood Mountain Faire wakes up amid the big trees. Also, as the official handbook of summer, our Guide to Summertime Fun lists all the seasonal amusements day by day. But wait! There's more. Our writers go Stand-Up Paddle surfing, get the skinny on area hot springs and dish out more about summer highlights.
Ten Questions for Danny Keith
The proprietor of Santa Cruz Skate and Surf Shop and the man behind the nonprofit Grind Out Hunger was just nominated to be a People Magazine All-Star. He shares some details about his existence with our humble publication.
Local Poets, Local Inspiration
In this month's installment of the poetry series, onetime Santa Cruz resident Dona Stein salutes the Looff carousel.

Cement Boots for Davenport
The cement manufacturer's departure leaves residents of the North Coast community struggling to stay afloat.

Swell Summer Swill
The best escape from escapism and other movie memes from film critic Richard von Busack.

MORE MOVIE REVIEWS

SANTA CRUZ COUNTY MOVIE TIMES

Music Calendar
The Dave Holland Quintet and Citay unpack their amps, while Santa Cruz-based roving soul band The Inciters unpack their bags and latter-day local sensation Snail unpacks its shell.

MORE MUSIC AND NIGHTLIFE

MUSIC AND CLUBS LISTINGS

In Vino Vita
After a century in winemaking, Bargetto knows its grapes.

BOOK A RESTAURANT RESERVATION

FIND A RESTAURANT REVIEW


Letters to the Editor
June 2 - 8, 2010