06.23.10
home | the papers | metro santa cruz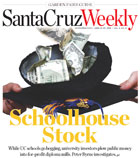 Billion Dollar Baby
The University of California is investing $53 million in two diploma mills controlled by a regent.

Pirate Radio Walks the Plank... Again
For the seventh time in 15 years, the FCC forces Free Radio Santa Cruz to find a new home for its transmitter.
News Briefs
In Baja California, a new study finds gray whales in a world of hurt. In Sacramento, state regulators prepare to register the toxic fumigant methyl iodide over the protestations of their own department's scientists.
The Bullhorn
Assemblymember Bill Monning weighs in on the methyl iodide debate and finds the pesticide "unsafe at any speed."

Meth and Madness
A young Ozark girl makes a dangerous journey in 'Winter's Bone.'

MORE MOVIE REVIEWS

SANTA CRUZ COUNTY MOVIE TIMES

Music Calendar
Texas hill country chanteuse Carrie Rodriguez at Don Quixote's, Hapa at Kuumbwa, Blue Oyster Cult at the Boardwalk and Mountain Palooza in Felton. Don't tell us there's nothin' to do!

MORE MUSIC AND NIGHTLIFE

MUSIC AND CLUBS LISTINGS


BOOK A RESTAURANT RESERVATION

FIND A RESTAURANT REVIEW

Old-Time Revival
Black string band the Carolina Chocolate Drops burst into roots music's big tent.

Letters to the Editor
June 23 - 30, 2010