06.16.10
home | the papers | metro santa cruz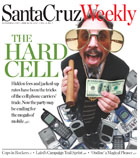 The Infuriating Cell Phone Racket
Early termination fees, doubled rates and bad customer service: if you're not pissed, you're not paying attention.

Santa Cruz's Pension Tensions
The city of Santa Cruz spends 40 percent more than surrounding cities on public safety retirement, and its outgoing city manager is blowing the whistle.
John Laird's Campaign Trail Sprint
As the June 22 special election nears, the Santa Cruz progressive who was termed out of the assembly in 2008 is giving his run for state senate everything he's got.
The Gulf Died for Our Sins
We have no one to blame but ourselves for the BP disaster, writes Ted Bucklin.

Sea Changes
Neil Jordan's new film proves a saltwater fairy tale for unrepentant romantics.

MORE MOVIE REVIEWS

SANTA CRUZ COUNTY MOVIE TIMES

Music Calendar
Ska's godfathers the Skatalites come to Moe's Alley, the Eagles of Death Metal prepare to land at the Cat, the Waifs play the Rio and Santa Cruz's own Al Frisby takes his show to Felton this week.

MORE MUSIC AND NIGHTLIFE

MUSIC AND CLUBS LISTINGS


BOOK A RESTAURANT RESERVATION

FIND A RESTAURANT REVIEW

The Girls are Back in Town
'The Baby-sitters Club' aims at a whole new generation.

Letters to the Editor
June 16 - 23, 2010