06.30.10
home | the papers | metro santa cruz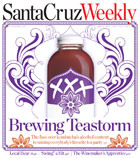 Buzz Kill
Storeowners pull kombucha tea from shelves as feds scrutinize the miracle brew's alcohol content. Also: what does Lindsay Lohan have to do with all this? More than you might think.

Surf Ear Safari
A Santa Cruz doctor has become a world expert at healing a notorious problem for surfers.
News Briefs
We summarize the final results of the June 22 special election, and a Capitola tabby named Taz hits the airwaves in an upcoming reality TV show.
The Bullhorn
Dorah Rosen writes of the hope she felt when she heard Israeli politician Yael Dayan speak recently at Temple Beth El and the disappointment that followed when Israel attacked the aid flotilla.


MORE MOVIE REVIEWS

SANTA CRUZ COUNTY MOVIE TIMES

Music Calendar
Naked Eyes, Shelby Lynne and Zongo Junction take to Santa Cruz stages this week.

MORE MUSIC AND NIGHTLIFE

MUSIC AND CLUBS LISTINGS

Santa Cruz Winemaker's Apprentice Makes His Mark
Hand-crafted wines from Denis Hoey's Odonata label are attracting attention.

BOOK A RESTAURANT RESERVATION

FIND A RESTAURANT REVIEW

'Swing' Hits The Mark
Cabrillo Stage pays hip-jiggling tribute to swing music's roots.
Multi-Dimensional Man
A new biography of Jack London maps out the life and times of a complex figure.

Letters to the Editor
June 30 - July 7, 2010