07.21.10
home | the papers | metro santa cruz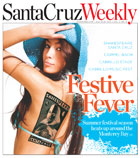 Festival Fever
The Santa Cruz summer festival season heats up, with offerings from Cabrillo Stage, Shakespeare Santa Cruz, Carmel Bach Festival and the Cabrillo Festival of Contemporary Music.

Santa Cruz Mulls Pension Reform
A study session yields a smorgasbord of unpalatable ideas on reducing city employee pensions.

Donors and Takers
Lisa Cholodenko's 'The Kids Are All Right' is a mean yet affectionate comedy.'

MORE MOVIE REVIEWS

SANTA CRUZ COUNTY MOVIE TIMES

Music Calendar
Santa Cruz psych-rockers Sleepy Sun, alt-country songbird Iris DeMent and guitar virtuoso Lee Ritenour make tracks for Santa Cruz stages this week.

MORE MUSIC AND NIGHTLIFE

MUSIC AND CLUBS LISTINGS

My Brew Heaven
Taste-testing fresh Santa Cruz Mountain Brewing beer is hard work, but somebody's gotta do it.

BOOK A RESTAURANT RESERVATION

FIND A RESTAURANT REVIEW

Weil's Triumph
Departing artistic director Bruno Weil leaves a thriving, innovative Carmel Bach Festival

Letters to the Editor
July 21 - 27, 2010