07.14.10
home | the papers | metro santa cruz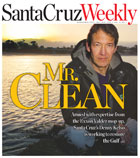 The Reluctant Mr. Clean
First the Exxon Valdez, now the BP gusher. Denny Kelso, the Santa Cruz-based VP of Ocean Conservancy, is getting uncomfortably familiar with cleaning up oil spills.
Ten Questions
Santa Cruz native Thomas Hickenbottom, author of the new novel 'Local Tribes,' tells us about the old Driv 'N' Eat, the importance of positive thinking and his life's passion.
Streetsigns
A sandcastle contest on Seacliff Beach inspires random thoughts on the ephemeral nature of sand and tides.

A Boon for Big Ag
New research says industrial agriculture is slowing climate change, but not everyone is sold on the green revolution.
News Briefs
Farmers and activists debate nitrate testing; Mission Hill alleyway fracas ends with judgment in favor of pedestrians.

The Avenger
Men get what's coming to them at the hands of Lisbeth Salander in 'The Girl Who Played With Fire.'
Independence Day
Tilda Swinton's a summer stunner in 'I Am Love.'

MORE MOVIE REVIEWS

SANTA CRUZ COUNTY MOVIE TIMES

Music Calendar
Flamenco phenom Ottmar Liebert, Band of Horses spinoff Grand Archives and Chicago-based indie rockers Maps and Atlases take Santa Cruz stages by storm this week.

MORE MUSIC AND NIGHTLIFE

MUSIC AND CLUBS LISTINGS


BOOK A RESTAURANT RESERVATION

FIND A RESTAURANT REVIEW

Early Impressions
In Golden Gate Park, a Parisian exhibit at the de Young Museum examines Impressionism's hazy origins.

Letters to the Editor
July 14 - 21, 2010