08.18.10
home | the papers | metro santa cruz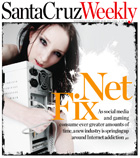 Net Fix
As social media and gaming consume ever-greater amounts of time, a new industry is springing up around internet addiction.

Santa Cruz Nonprofit Counts On Data
By tracking the trash volunteers pick up from local beaches, Save Our Shores hopes to change public policy. The organization hosts its annual fundraiser this week.


MORE MOVIE REVIEWS

SANTA CRUZ COUNTY MOVIE TIMES

Music Calendar
Ramblin' Jack Elliott, They Might Be Giants, Sambada and Bad Brains on Santa Cruz stages this week.
At The Crossroads
Leaving his record label may be the best decision Eric Lindell's ever made.

MORE MUSIC AND NIGHTLIFE

MUSIC AND CLUBS LISTINGS

The Wine Dinner, Soquel Style
Hunter Hill wine dinners defy the norm with generous servings and plentiful pours.

BOOK A RESTAURANT RESERVATION

FIND A RESTAURANT REVIEW

Full of Sound and Fury
Shakespeare Santa Cruz's 'Othello' packs good acting but lacks coherence.

Letters to the Editor
August 18 - 25, 2010